A Ring to Take His Revenge by Pippa Roscoe is the first in a trio of sexy romances featuring three wealthy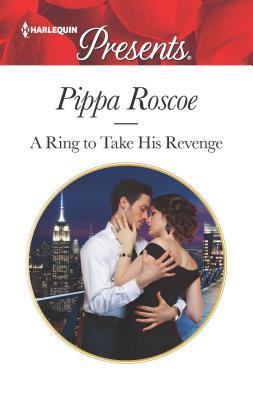 male friends who own a racing syndicate, the Winners' Circle. This story features an international businessman and his personal assistant in a 'fake relationship turned real' romance.
Emma Guilham has already been through her share of hard times, having breast cancer at the tender age of seventeen, followed by a double mastectomy and breast reconstruction surgery. She's determined to live life on her own terms and has worked hard to get her international business degree. She's fully qualified for the position she's applying for – that of personal assistant to Antonio Arcuri, one of the three men who run the Winners' Circle. She impresses Antonio, and he hires her without reservation.
Eighteen months later, Antonio has come to rely on his PA and her efficient ways. Now he needs her to perform an extra, unusual task – find him a 'fake fiancee' in order to assist him in getting a deal to go his way with a conservative businessman. It will serve double duty in getting revenge on his estranged father, a man whom he blames for the trauma his mother and sister endured when his philandering ways cast them out of their home. It soon becomes apparent that the best woman for the job is Emma herself. Going from a strictly business relationship to a fake engagement comes with some interesting perks, including a sexual attraction that can now be acknowledged, and succumbed to. They've no need of pretending an interest in each other once they experience some sensual delights. But will their fake engagement become the real thing?
What a great start to this series! Three friends, Antonio, Danyl and Dmitri hope to have a winning strategy with their choice of horses and a talented female jockey, and this story includes the first major race of the Hanley Cup series with the sultry setting of Buenos Aires.
As his new fiancee, Emma will get to travel with Antonio. This is particularly appealing to her as she has a 'Living List', a set of places to visit and things she wants to accomplish now that she's been in remission from cancer for five years. Her cancer is not dwelled upon in the story but is a fact of life her for, and she's been unwilling to trust a man to see her post surgery body. Because she and Antonio are now spending more time together as an engaged couple, she shares with him her history, and when they sleep together, Antonio treats her with care and attention. He finds her beautiful and the evidence of her struggle only makes him respect her more. They share some sexy love scenes. It was a delight to see Emma revel in the equality she has with Antonio after they've slept together, knowing that he desires her just as she is.
Part of this story revolves around Antonio's desire for revenge against his father. When he finds out some unsavory information about his possible partner's daughter, he has to decide what to do with it. Emma makes it clear that she won't be a party to blackmail, and Antonio must choose what is more important to him – revenge, or Emma. It's a classic tale of passion and drama with likable characters and an intriguing story. I'm looking forward to reading more in this series!
Book Info:

Publication: Aug 21, 2018 | Harlequin Presents | The Winners' Circle #1
He'll do anything to settle the score…
…even fake an engagement!
To secure his revenge against his cruel father, billionaire Antonio Arcuri needs a fake fiancée—fast! He demands his shy PA, Emma Guilham, wear his diamond. In return, he'll help fulfill her dreams—starting with a jet-set trip to Buenos Aires! It's a simple charade, until the burning tension between them erupts into irresistible desire. Now Antonio must decide between vengeance and Emma…