In Accidentally Married on Purpose by Rachel Harris, Sherry Robicheaux love men, and falls in love faster than she can blink only to get her heart broken by them. Which is why she has determined that she will no longer fall in love and will settle for no sparks and a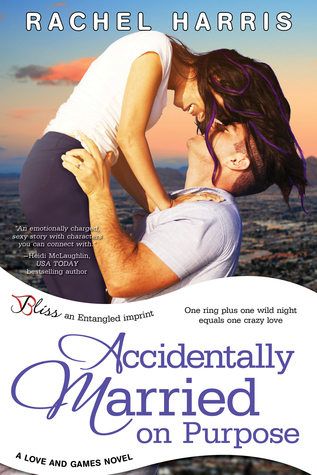 stable relationship that will last a lifetime.
But things don't always go as planned as she will learn in Vegas.
Usually her sister takes care of any catering there, but this time Sherry convinced Colby to let her be the one in charge of the catering for a concert. A concert for country music, a genre that Sherry is NOT into, so she feels that she will be fine with whomever she may meet there. Only while supervising the catering does she see a man that she immediately falls for.
Tyler Blue is so used to everyone recognizing him at first sight. So when the cute catering girl sees him he thinks that she is star struck. Well is he is also struck by her and her different look from every country fan. But when he gets close and he realizes that she doesn't know who he is he cannot help wanting to spend some time with her and just be himself, not the country star but Tyler Blue.
Only one weekend turns into an unexpected wedding, one that neither expected and that both blame on the alcohol. But Sherry blames herself most of all, she sees this as something that she would think of and that she would irresponsibly do. So she apologizes and asks him for an annulment or a quiet divorce.
Then the media find out and things will get out of hand really fast. Sherry expected a quiet affair not public acknowledgement of it as soon as she arrived home. And when Tyler tries to dissolve his wedding quietly his employees and manager need him to be a stable married man in order to get more sales like many of the other famous country stars are. So with his career is in danger he asks Sherry to play along as a happily married couple for a month only.
But let's be honest, with all the chemistry and sparks between them what are the odds of either of them being able to walk away in the end with their heart intact? It will be tough month for them both, and one in which they will learn what they really want out of their lives and whom they want to spend the rest of it with.
Sherry has been a fun character since the beginning of this series, I knew that her love story had to be unusual and Rachel didn't disappoint. Accidentally Married on Purpose by Rachel Harris is a fun and very entertaining read that you will not be able to put down.
Book Info:

Published July 14th 2014 by Entangled: Bliss
One ring plus one wild night equals one crazy love
Sherry Robicheaux loves men. She loves love. And she loves an adventure. So when she meets a mysterious man while working backstage at a country music concert in Vegas, she's all about what's happened in Vegas staying there.
Country music superstar Tyler Blue just wants a weekend of anonymity…though there's something about the spunky waitress with the streaks of purple hair that tempts him like no other. Until the next morning, when they both wake up with fuzzy memories…and rings on their fingers.
Convincing Sherry to maintain the ruse for his public image isn't the hardest part—it's reminding himself that their time spent playing husband and wife in her small town of Magnolia Springs can't last. Tyler's first love will always be music—and the road is no place for a sweet downhome girl.