In Accidentally on Purpose (Heartbreaker Bay #3) by Jill Shalvis,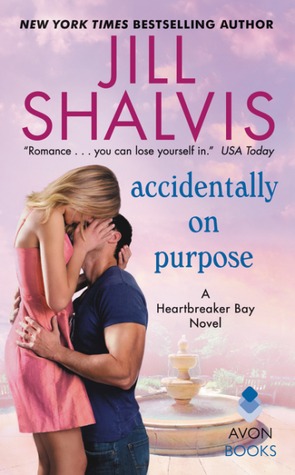 For over a decade Elle Wheaton has been trying to curb her attraction to badass security guy Archer Hunt. So she should have known a year ago that taking a job in the same building as his company was a bad idea. But they've made it work, up until now. Elle's attempt to move past her crush on Archer by starting to date doesn't go so well, thanks to his interference each time she goes out with someone. Things get even more convoluted when their past comes full circle, leaving her to wonder if there's a way to ever get over the one man she feels more for than anyone else on the planet.
Pru went wide-eyed. "Wait," she said to Elle. "So you and Archer 'discussed things'? Wow. We all knew it was only a matter of time before the tension between you two exploded but I thought we'd all hear the nuclear reaction, or at least smell the smoke."
"Ha-ha," Elle said, and then she blinked. "Wait. What do you mean you all knew it was only a matter of time?"
Keeping an eye on Elle over the years has been Archer's little secret, making sure she's safe after her tough upbringing. And he gladly threw in the towel on his fledgling career in the police force in order to make things right for the then sixteen-year-old Elle. But keeping his distance now that she works in the same building, watching her date guys who don't deserve such a brilliant, sassy woman? Pure torture. So Archer decides it's finally time to act on his desire for Elle, which honestly scares the heck out of him. Although he sees no alternative, considering he's not willing to move on until they've given it a fair shot.
"You're it for me, Elle. It's always been you. Only you."
No one does romantic comedy quite like Jill Shalvis. And Accidentally on Purpose was a shining example of why I've been a fan of her writing for so long. From the down-to-earth, quirky group of friends I've come to adore, to the entertaining predicaments they always find themselves in, I swear I never stopped smiling while reading this story.
"So, you're my body guard for the evening?" he asked.
"Just for the evening, and then we go back to World War III. But yeah, for tonight, I've got your back, whatever you need." She realized her mistake the minute the words left her mouth.
And so did Archer as he sent her a gaze so sizzling she had to look down to make sure her clothes hadn't melted off.
If you've been following Shalvis's Heartbreaker Bay series then this is the book you've likely been waiting for. To see Elle and Archer end the steamy, tension-filled dance they've been doing since book one. And boy was it worth the wait! I have to say that I had pegged their history all wrong, though, and loved finding out how they met and what's fueled the emotions between them for so long. But no one could deny the incredible chemistry whenever Archer and Elle were in the room together, although they did fight it with everything they had, much to everyone's amusement.
While there were a lot of funny moments and great scenes between everyone that had me laughing, the relationship between Archer and Elle was a bit more antagonistic. They liked pushing each other's buttons and fought like an old married couple. But it totally worked for them. Their rocky past, having to do with Archer's days on the police force, also hung over them and caused them to both push each other away and want to protect each other in equal parts. And considering that Elle was as smart and feisty as they come and Archer was alpha male all the way, whew, there were some fiery arguments that led to a few very passionate moments.
Accidentally on Purpose can easily be read as a standalone or as part of the Heartbreaker Bay series. Either way, I think romance fans will have a ball getting to know Elle and Archer better and watching as they finally–finally!–gave in to their feelings. Highly recommended.
Book Info:

Publication: January 24th 2017 | by Avon | Heartbreaker Bay #3
There's no such thing as a little in love…
Elle Wheaton's priorities: friends, career, and kick-ass shoes. Then there's the muscular wall of stubbornness that's security expert Archer Hunt—who comes before everything else. No point in telling Mr. "Feels-Free Zone" that, though. Elle will just see other men until she gets over Archer… which should only take a lifetime…
There's no such thing as a little in lust…
Archer's wanted the best for Elle ever since he sacrificed his law-enforcement career to save her. Their chemistry could start the next San Francisco earthquake and he craves her 24/7, but Archer doesn't want to be responsible for the damage. The alternative? Watch her go out with guys who aren't him…
There is such a thing as…
As far as Archer's concerned, nobody is good enough for Elle. But when he sets out to prove it by sabotaging her dates, she gets mad—and things get hot as hell. Now Archer has a new mission: prove to Elle that her perfect man has been here all along…