An Offer from Mr. Right (Cress Family #3) by Niobia Bryant: Private Investigator Bobbie Barnett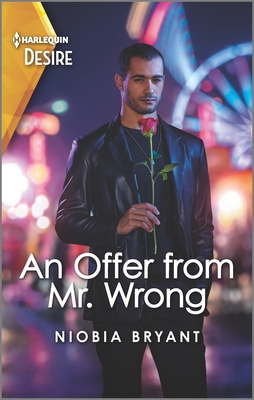 was hired to investigate the Cress family's patriarch and found he had an illegitimate son—Lincoln Cress, a British renowned chef. Angry because Lincoln thinks Bobbie was invading his privacy, things between them go complicated; they couldn't tolerate each other but at the same time their chemistry is blazing hot! Then, when Lincoln travels to US to meet his biological father and his five brothers, he feels so overwhelmed with everything surrounding him that he hires Bobbie to pretend to be his date in some family affairs. You know what happens when two people who are attracted to each other have to pretend they're a couple, right?
"A chakra cleanse. New outlook on life. Great sex," she said, ticking each off on her fingers.

"Excuse me?"

"The three things you need in your life," she said, giving him a slow and thorough once-over. "ASAP."
This is a book that will take you to an emotional rollercoaster ride. Literally. Believer in new age ideas, Bobbie had a perfect life until her husband cheated on her. She's been separated for only five months (divorced two months ago) and she still has deep wounds, trying to have a spiritual healing before she opens her heart again. Ever grim Lincoln had a difficult breakup with a former lover who doesn't accepts everything between her and Lincoln is over. Both Lincoln and Bobbie have baggage they carry to their relationship, making their romance face some obstacles. On paper, theyre opposites, but they work really well. That said, while they're HOT together, there were too many clichés in their story that makes you feel as frustrated as they are—I mean Lincoln, actually—sometimes. Seriously, I REALLY wanted to hit Bobbie!
"Love should be sweet and passionate. It should be a happy place. Somewhere where you get lost from the evils. The world's hardships have a little less bite because you know that you are wrapped up and protected by love."
This book starts after Lincoln's first encounter with the Cress family (you could read that encounter in book two of the Cress Family series, The Rebel Heir, and be sure to read it before reading this book to get full perspective about Lincoln and Bobbie's story, something I didn't), so the Cress family is crucial for this book, especially in Lincoln's interactions with his new family and his emotions towards them and his mother. Also, Bobbie's father sometimes acts as his daughter's spiritual guide. He brings balance to Bobbie, who tends to drama.
I liked this book, but I feel like the chapters are TOO long. Maybe if their structure were a bit flexible (I mean shorter), the reading would be more easier. Since this book has too many drama (did I mentioned the word cliche in this review?), it needed to take a break between POVs without missing the rhythm of the plot. That said, the story is attractive enough to follow the series and Ms. Bryant's work because she's a good storyteller with lots of skills in her writing.
Book Info:

Publication: June 28, 2022 | Harlequin Desire | Cress Family #3
A chef turned secret heir cooks up a fake—and deliciously tempting—relationship in bestselling author Niobia Bryant's delectable Cress Brothers novel.
Will a fake relationship
help a reluctant heir claim his birthright?
As the recently discovered secret heir to the Cress Dynasty, chef Lincoln Cress isn't exactly fitting in with his new family. A girlfriend for hire would help, and private investigator Bobbie Barnett, who discovered his Cress connection, fits the bill. It's a simple deal that has nothing to do with her wavy hair, full lips or how she incites his wickedest appetites. Now Lincoln's risking everything—including the Cress family's reputation—on a proposal that has nothing to do with business…and everything to do with pleasure.
From Harlequin Desire: A luxurious world of bold encounters and sizzling chemistry.
You'll be swept away by this bold, sizzling romance, part of the Cress Brothers series:
Book 1: One Night with Cinderella
Book 2: The Rebel Heir
Book 3: An Offer from Mr. Wrong