In An Unpredictable Match (The Match Series Book 5) by Barbara Dunlop , when a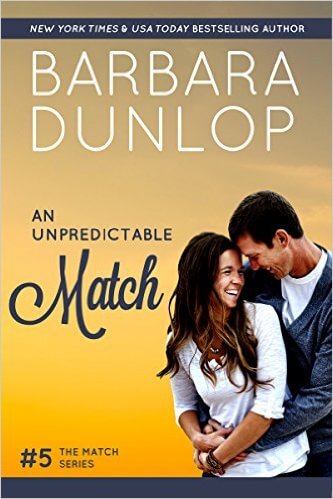 group of senior citizens decides to play matchmakers, no one is safe! Hammond and MacKenzie's grandmother's, with the help of their group of friends and a computer program that's never wrong, have decided that Hammond and MacKenzie are each others perfect match. Being obvious about it won't work though…so in their own complicated way they work to bring them together by using Hammond's family mansion as the set of a film production that MacKenzie is working on. It's not as easy as they think it will be though, and things get complicated very fast…threatening all they've worked for to bring Hammond and MacKenzie together. Will it be a match made in heaven when all is said and done or will they go their separate ways?
I enjoyed this entertaining story by Barbara Dunlop where almost everyone is trying to outsmart each other! I laughed, worried, and could feel the heat coming off the pages! Hammond is attracted to MacKenzie from the start. MacKenzie is just as attracted, but as a woman in Hollywood, knows the risk of gossip by becoming involved with anyone remotely linked to a production she's working on. The air sizzles when they are around each other though! They have no idea they've been set up, and it was fun to watch them get to know each other. Hammond had his own ideas what the seniors were up to, but they still managed to pull one over on him. I liked the push and pull between Hammond and MacKenzie as things started to heat up, and the tension it sometimes created was realistic. The ups and downs of what happens as the plot and the production move on, and the consequences of actions added a lot of oomph to the story.
An Unpredictable Match is a fun book with a great set of characters. This kind of thing might not happen in real life, but An Unpredictable Match is a well written, well paced book to escape into another world in. I'd recommend it to an romance reader!
Book Info:

Published: May 12th 2016 by Tule Publishing | The Match Series #5
From New York Times Bestselling Author Barbara Dunlop, a comedic, contemporary romance series featuring the high-tech antics of matchmaking senior citizens unleashed on their unsuspecting heirs.
When Hammond Vashon's family mansion is invaded by a Hollywood film production, he senses a conspiracy. He knows his grandmother Daisy has plans to match-make him, and it doesn't take long to identify his grandmother as the force behind the production and starlet Pippa Carrington as his intended match.
Line producer MacKenzie Bowen is shocked when Hammond kicks her boss off the set and promotes her to producer. She's attracted to handsome, wealthy mansion owner, but she knows better than to get romantically involved with the guy at the top of the film food chain—at least, she ought to know better.
Fascinated by MacKenzie, and more than interested in a exploring their mutual attraction, Hammond let's his guard down. Busy avoiding Pippa and worrying about his grandmother's machinations, he doesn't realize his true match is MacKenzie until it's too late.