Angel Kin (Angel Assassins #1) is a phenomenal re-launch of author Tricia Skinner's remarkable writing style. I was worried when I heard the Angel Assassins series was going through transition (new publisher) – Angel Bait, the prequel, was a 2013 favorite of this reader. Angel Kin is the story of Cain, a Nephilim assassin, and Katie Logan, a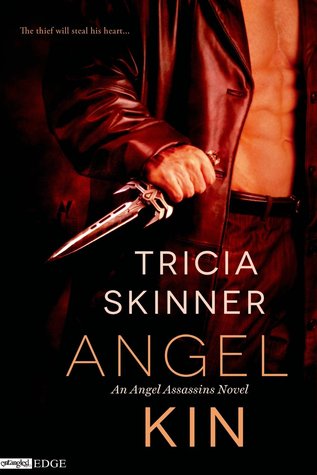 not-so reformed thief.
Only The Bound Ones can protect Katie after she witnesses a supernatural murder. Unfortunately, one of the men assigned to protect her has the face of a killer. Rescued as a child by Tanis, Cain is one of only four surviving Nephilim – all others were put to death including his twin brother Abel. It is apparent that Abel is seeking revenge against Cain for past transgressions.
"While you lived in Heaven, I was sentenced to life in Hell." – Abel to Cain
The author tugged this reader's emotional strings – the relationships both romantic and hereditary were very dynamic. The tension ebbed and flowed throughout the story. Every page reflected true realistic emotions between Cain and Katie – tenderness, trust, acceptance, intimacy, and love. I would have enjoyed just a tad more of the bond between Cain, Jarrid, Kas, and Nesty.
Book Info:

Publication: April 28th 2014 by Entangled: Edge
While channeling Robin Hood's "steal from the rich and give to the poor" attitude at a local politician's house, ex-con Katie Logan witnesses a forced suicide. Dirty or not, supernatural or not, he didn't deserve to die, especially not by his own hand. But with her record, stepping forward as a witness isn't an option. On the run from the police and the murderer, she turns to The Bound Ones for help.
When a beautiful woman comes to The Bound Ones, half-angel assassin Cain is immediately drawn to her. But when she fingers him as the killer, he can come to only one conclusion. The twin he thought was dead is very much alive…and trying to send him a message. Unfortunately, that message is: "You're next."
It's a race against time as Cain fights to save the woman he's falling in love with before his brother Abel destroys them both.(