In Apples Should be Red by Penny Watson, Thanksgiving is generally a time when people give thanks for the blessings in their lives and spend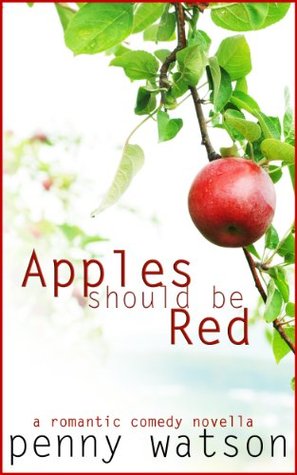 quality time with family and loved ones. But this year, sixty-two year old widower Tom Jenkins has been thrown into the role of host as his house has been taken over by Beverly Anderson, his son's fifty-nine year old mother-in-law. Just because Tom and Bev's children are married doesn't mean they have to get along. They live in totally different worlds, with Bev being a socially upscale widow who strives for perfection, and Tom being a working class guy who could give a damn what people think of him.
'Tom had pulled the rug out from under her, and it was not a comfortable feeling. He'd kissed her! Which wasn't the worst part. The worst part was that she'd liked it.'
Bev knows Tom loves to antagonize her just to get her upset. And as she plans out the Thanksgiving meal she'll be cooking for them all, he stays true to form, bugging her every step of the way. But they both begin to notice an attraction building between them. Tom intends to capitalize on their situation and try to draw Bev out of her prissy shell and see what's underneath that cool facade. What they find might end up shocking them both, as well as their kids, John and Karen, in the process.
"John." Her voice trembled.
"Yes, sweetheart?"
"Um, I did not just see our parents on the sofa. Naked, under a blanket. With their arms around each other. Naked. Together." Her eyes were wide. "Naked."
"How about that? They didn't kill each other." John stroked her back in a soothing motion. He was trying like hell not to laugh again.
Oh. My. Gawd. Apples Should be Red is one of the most hilarious, heartwarming holiday stories I have read recently. With a curmudgeonly outspoken hero and an uptight perfectionist heroine that find themselves attracted to each other, how can it be anything but entertaining?
I will quickly say that if you are not a fan of profanity, this short story might be a bit much for you. Personally, I thought that as a part of Tom's dialogue, it fit him to a T and only added to his grumpy persona. Although it did make it difficult to choose quotes for this review without the f-bomb… Tom made me laugh through the whole story with the way he teased Bev and got her all wound up. But I loved that underneath that crusty exterior, Tom had a big heart. And never did he show it more then when he was tender with Bev, helping her through her emotions during the Thanksgiving week they shared.
Author Penny Watson did such a fantastic job telling this story in such a way that kept me chuckling as well as sighing happily as I watched these two characters "of a certain age" fall for each other. They both went through such a big change in a few short days emotionally, but it didn't feel contrived. Instead, their evolution as a couple seemed natural and was definitely spectacular to watch. I loved that we get a few scenes with their grown children, who are married to each other, and see things from their perspective. One of the funniest scenes (I thought) was when Karen and John arrived at Tom's for Thanksgiving. Let's just say that what they walked in on can't be unseen… 😉
I truly had so much fun reading this novella. The characters were beyond charming, and I thought there was a wonderful balance of humor with the deep emotions. I can't recommend this one enough.
Book Info:

Published February 15th 2014
Recipe for Thanksgiving Dinner:
Start with 62-year old politically incorrect, chain-smoking, hard-cussing curmudgeon.
Add 59-year old sexually-repressed know-it-all in pearls.
Throw in a beer can-turkey, a battle for horticultural supremacy, and nudist next-door neighbor.
Serve on paper plates, garnished with garden gnome.
Tastes like happily ever after.
Penny Watson presents an over-fifty romantic comedy novella. 21,000 words. Story includes copious profanity and botanical references.