Awakened by the Scarred Italian by Abby Green: Lara is smart, sweet, generous, and finally free. The last two years have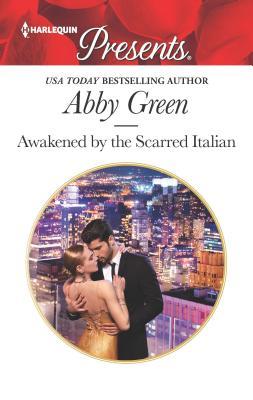 been difficult between the kidnapping, leaving Ciro, and marriage to a man she never wanted. She doesn't know what she'll do next, but she's happy for a fresh start.
Ciro is sexy, wealthy, and determined to break through the doors closed to him. He's great businessman as he's expanded the company over the last few years. He seems to have it all as men want to work with him and women want to be on his arm. He's confident, arrogant, and powerful.
Ciro is a man used to getting what he wants and he still wants Lara. Ciro wastes no time in suggesting a marriage of convenience with Lara as his soon-to-be-bride. The two years apart have changed them, but the chemistry never waned. Ciro has his reasons for suggesting such an arrangement, and Lara has her own reasons for agreeing to the crazy scheme.
Lara fought to stay calm. To appear unmoved. 'Don't be ridiculous. I'm not going to marry you.'
He shook his head. 'Not ridiculous at all. Very practical, actually. Like I said, I'm in need of a wife, and as you deprived me of one so memorably two years ago, you can step up now and honour the commitment you made when you agreed to marry me in the first place.'
With their past between them, Ciro doesn't trust Lara at all. He has a hard time reconciling the woman he believes her to be with the woman she is and always was. The longer they're together, the more he gets to see glimpses into other sides of her. Lara isn't as naïve as she used to be and she tries to protect herself. The longer they are together, the harder it is to keep their walls up.
Feeling exasperated now, as well as jittery that Ciro was so close, Lara said, 'You've been out for
dinner every night, Ciro. Did you really expect that I'd be sitting here pining away for your company?'
He flushed as if she'd hit a nerve. 'Clearly I made a mistake in not taking you along to those dinners with me.'
Awakened by the Scarred Italian has secrets, betrayals, lies, and passion. Abby Green provides conflict, angst, and heat. Ms. Green provided exciting locations, good character development, and a rollercoaster of a romance. Fans of Michelle Smart and Jennie Lucas will enjoy Awakened by the Scarred Italian.
Book Info:

Publication: Published July 1st 2019 | Harlequin Presents | Passion in Paradise #5
The brooding Italian's returned…
To finally make her his!
Two years after their last heartbreaking meeting, Ciro Sant'Angelo bursts back into Lara Templeton's life with a demand. His former fiancée will fulfill her promise and become his wife! Ciro is not the man Lara remembers—a devastating experience has left him scarred and completely ruthless. Yet their intense fire has never died, and his caress awakens innocent Lara to unimaginable pleasures. Could their convenient marriage be their redemption?
Discover this intense tale of romance and redemption