Best Friend to Princess Bride by Katrina Cudmore is the first book in the Royals of Monrosa series.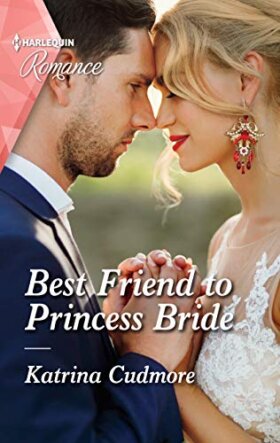 This author was new to me and I wasn't sure what to expect but I was pleasantly surprised at how good the book was. I was charmed by the characters and their witty banter. Their friendship evolved slowly into love, which was nice since a lot of books with the friend to lover troupe seem to jump into bed right away. This book allowed the reader to understand how their friendship started and why they had become best friends. The characters were easy to connect with and their emotions grabbed you and drew you in. I did have to keep my tissue box beside me because of all the emotions.
Prince Edwin of Monrosa had a dilemma. His father wanted to step down from the throne of Monrosa, but for Edwin to take over he had to be married. After the death of his beloved mother, he closed himself off and wouldn't allow anyone close. He needed a wife that he could trust and one who wouldn't expect a lot of emotions for him. He needed a wife that would help him to reform Monrosa and he knew that Kara would be the perfect wife for him.
Kara Duffy had dedicated her life to setting up Young Adults Together, a charity focused on youth's mental health, after her brother's death. Edwin had been her brother's best friend and had become her anchor after Michael's death and the breakup of her parents. She was weary of relationships and happy being single and devoting herself to her work. Reluctantly she agreed to marry Edwin and to stay married for two years. Their marriage would give her more influence and the ability to expand Young Adults Together.
Both were concerned that the marriage would ruin their friendship and that concern produced many misunderstandings. They tried to deny their growing feelings but that just put more stress on their friendship. This book was on the mild side of spicy, but still was a great book. I'm looking forward to the next book in the series. I can't wait to see what kind of brides Prince Luis and Prince Ivo find.
Book Info:

Publication: March 1st 2020 | Harlequin Romance | A Royals of Monrosa
"I have to marry…
I want you to be my wife!"
Prince Edwin and Kara have been best friends for years, and there's never been a hint of attraction between them! So when Edwin must marry to succeed the throne of Monrosa, Kara's the sensible choice to be his princess. That is, until an electrifying kiss to seal their engagement breaks all the rules of friendship and their arrangement suddenly feels painfully real!