Today, HJ is pleased to share with you

Emma Hart's

new release: 

Number Neighbors

BAD IDEA #241: Sending a dirty text to your number neighbor.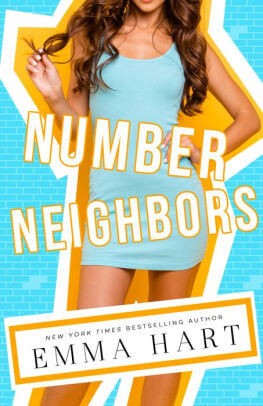 In my defense, my friends did it too, and their neighbors took it as the joke it was.

Mine didn't.

He responded with a dirty text of his own. Next thing I know, I have a standing texting date every night at ten-thirty.

Until I have to miss it because the stray kitten who adopted me one week ago is sick. The only person I know who can help me at this time of night is my British next-door neighbor and local vet, Isaac Cooper.

I'll keep him overnight, he says. Here's my number to call me in the morning, he says.

The problem?

I know that number.

Because I've been texting it every night for the last four days…
Enjoy an exclusive excerpt from Number Neighbors 
ME: Your grandma and her friends are drunk at the bar.

"Hello, darlings!" The one in the skirt sat down next to me and batted her eyelashes. "I don't think we've met. I'm Evelyn."
Jen hit her around the back of the head with her bag. "He's dating Hannah!"
"You're dating Hannah?" all three other women said.
"Technically no," I replied. "We had a date."
"That's dating to me," Lil in the leather trousers replied, sipping on a gin. "Where's Maya?" she directed to Mason.
"Drinking milk from a brown paper bag under a bridge somewhere unknown," he replied.
"Are you sassin' me, boy?"
"No, ma'am."
I hid a laugh as my phone buzzed. "Excuse me. I have to take this." I glanced at Mason in the hope he knew it was Hannah calling.
I edged my way out of the bar and away from the group of smokers at the door. "Hey."
"Hey? Freakin' hey?" she replied. "What do you mean my grandma and her friends are at a bar? Where are you?"
"I'm at Pete's with Mason. I ran into him earlier—we came to get something to eat and a beer. Then we saw your grandma and her friends and they look a little drunk."
"Goddamn it! Pete's you said?"
"Yep."
"I'm coming. Are they still able to stand?"
"Yes, but who knows for how long?"
"Isaac, this isn't making me feel better. They're banned from bars and they know it!"
"Banned from bars? How do you ban elderly people from bars?"
"Quite easily. You tell them they can't go to bars." There was the sound of a door slamming on her end of the line. "The last time they were drunk in public, they flashed absolutely everyone. Grandma has been inspired to buy weird kinky underwear from eBay, and trust me when I say that absolutely fucking nobody needs to see her in a lace bra with holes for the nipples cut out."
Yep.
I was with her on that.
"Okay, then. Should we keep them amused until you get here?"
"Yes. Don't let them out of your sight. That place has a mechanical bull, and I don't want to spend all night in the emergency room because one of those crazy old ladies decided to ride it."
Excerpt. ©Emma Hart. Posted by arrangement with the publisher. All rights reserved.
Giveaway:

Signed paperback of Number Neighbors including swag, open internationally
To enter Giveaway: Please complete the Rafflecopter form and post a comment to this Q:

What did you think of the excerpt spotlighted here? Leave a comment with your thoughts on the book…
Meet the Author:
Emma Hart is the New York Times and USA Today bestselling author of over forty novels and has been translated into several different languages.
She is a mother, wife, lover of wine, Pink Goddess, and valiant rescuer of wild baby hedgehogs.
Emma prides herself on her realistic, snarky smut, with comebacks that would make a PMS-ing teenage girl proud.
Yes, really. She's that sarcastic.
You can find her online at www.emmahart.org, www.facebook.com/emmahartbooks, or join her reader group at http://bit.ly/EmmaHartsHartbreakers. Alternatively, follow her on Instagram at www.instagram.com/emmahartauthor or @EmmaHartAuthor. Keep up to date on her releases by following her on Amazon or signing up at http://bit.ly/EmmaAlerts.

Amazon US → https://amzn.to/32ZMq5b
Amazon UK → https://amzn.to/34dtgZz
Apple Books → https://emmahart.pub/nnapple
Nook → https://emmahart.pub/nnnook
Kobo → https://emmahart.pub/nnkobo