Best Man Under the Mistletoe by Jules Bennett: Sometimes we just have to trust. The problem comes when every time you trust you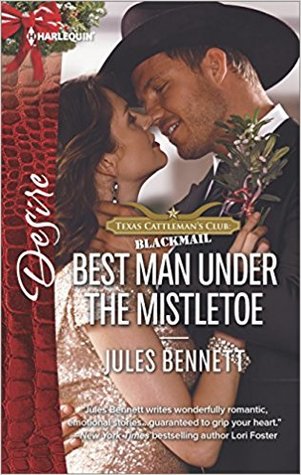 get hurt, so you learn not to trust. Then you just have to but aren't certain you can.
Chelsea Hunt wasn't ready to trust. She had been burned every single time she tried to. She could trust her brother and her best friend, but that was it and even those two didn't know everything. So why, and how, was she going to trust a guy? Especially a man associated with one of her most recent trust issues?
Gabe Walsh knew his uncle had hurt a lot of people and he couldn't figure out to make it right. Even though he didn't cause the pain he knew, or thought, it was up to him to make it better. Especially with her, Chelsea Hunt was one female he just went alpha on and wanted to make it all right and all better for her.
The best man and maid of honor in a wedding Chelsea and Gabe were definitely going to be together in close quarters for a while and so close to Christmas… well there was one way to stay warm. But was the fire burning too bright? Was it blinding to the truth? Or perhaps just helping them find the path more quickly?
This is the conclusion to the blackmailed by Maverick series and Ms. Bennett has sent it out with a bang. While you don't need to have read the rest of the series to love this one, Ms. Bennett does a great job wrapping up some of the other story lines and giving lovers of the series a satisfying conclusion. I fully warn you though there are a couple of parts you are going to want to throttle both Gabe and Chelsea but in a testament to Ms. Bennett's writing you won't be able to put it down and walk away but want to read faster to figure out how they handle things. Some heat, but mainly heart and soul reside in this installment from Royal Texas.

Book Info:

Publication: December 5th 2017 | Harlequin Desire | Texas Cattleman's Club: Blackmail #12
Christmas wedding bells are ringing!
Everyone in Royal, Texas, now knows former special agent Gabe Walsh's connection to the blackmailer terrorizing the town. And Gabe's suddenly guilty by association. Worst thing is, Chelsea Hunt blames him for the compromising photos of her that everyone's talking about. But since he and Chelsea are planning the Christmas wedding of their best friends, Gabe has many opportunities to show the sexy cowgirl just what a good guy he really is. And apparently he's pretty convincing, because she soon winds up in his bed! But is this just a holiday fling or the real thing?