In Between You and Me by Susan Wiggs, Growing up in the heart of Amish country in Middle Grove,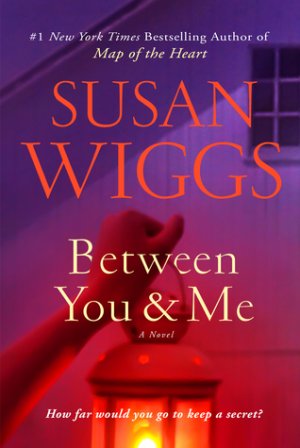 Pennsylvania, Caleb Stoltz was taught to be respectful of the English but that modern technology was not to be a part of his life. Never truly satisfied with that, he had a taste of the big world around him before being called home after a tragedy struck his family, leaving him in charge of his niece and nephew. But when a horrible accident happens on the farm, with his nephew Jonah fighting for his life, Caleb knows he must turn to the English hospitals in the city for help. It is a decision that will ultimate change his life in many ways. Including meeting Dr. Reece Powell, who not only proves to be the support system Jonah needs, but also the one woman Caleb longs to have in his future. As impossible as it may seem.
'She'd woven an enchantment around him until he'd started imagining a life far from the Amish community–a life he couldn't have.'
The closer Reece gets to choosing her residency, the more she questions the path she's been on. It seems like it's exactly what her parents want for her, to follow in their successful footsteps. But she feels like she's still searching for that place where she can put her medical skills to their best use. Then one dramatic case during her turn in the ER puts Reece face to face with severely wounded Jonah Stoltz. And his guardian Caleb. She's drawn to the duo with an intensity that she cannot explain. It's not like she knows much about them or their culture. But Reece gets pulled into their situation–willingly–and into their lives, knowing what she feels for Caleb just can't possibly work out in the long run. But as they discover the connection between them is stronger than they could ever have imagined, another serious situation causes them to be pulled in different directions. And Reese isn't sure they'll find their way back to each other.
"There's something going on between us. It feels…romantic and special. And if you think I'm wrong, you'd better speak up now because it's kind of a big deal to me."
"You're not wrong," he said.
You can always count on Susan Wiggs to spin an incredibly emotional tale with strong themes and realistic predicaments. Between You and Me was a wonderfully written story of complicated family matters, unexpected love, and the consequences of one's actions.
'Their relationship was tenuous, stretched taut between unbearable yearning and immovable obstacles.'
Susan Wiggs truly does have this incredible ability to wrap me up in her storytelling. Her characters are so flawed and genuine that I can't help but empathize with them and (for most of them) hope for the best possible outcome. This book was told from a few POVs, but mainly from Reese and Caleb's. And although I did love them both–they were such caring individuals with good, good hearts–it was brave youngster Jonah that stole my attention over the course of the story and ultimately my heart as well.
While parts of Between You and Me may seem provocative and controversial at times, what with the contrast between English and Amish cultures, mention of physical abuse and murder, to me it all really boiled down to the choices each character made and struggled over. Reese was on the cusp of moving from being a medical student to choosing a field for her residency, and all of the drama and pressure from her overachieving physician parents because of it. They were pushing Reece, as always, to go for the top rung. Whether it was what she wanted or not. Her struggle was similar in some ways to Caleb's, as he was obligated to return to the Amish community he was from to take care of his orphaned niece and nephew. Neither Reese nor Caleb felt like they had a choice to do–or be who–they truly wanted to be and instead typically did what was expected.
I loved watching Reese and Caleb together. Their backgrounds were polar opposites but it felt like they balanced each other out quite well. It was cool to watch Caleb's wonder over the modern amenities he didn't have back home in Middle Grove and how Reese craved the simplicity of life in his rural part of the world. There were some seriously heartbreaking moments that changed them both greatly throughout the book. Especially with Caleb's nephew Jonah's horrific farming accident, which was tough to read about but proved how strong Jonah and Caleb were as individuals and as a family. The love and trust they had for each other was incredibly touching and will definitely melt readers' hearts.
Between You and Me covered a wide array of emotions and situations. Certainly enough to help just about any reader connect with its memorable cast of characters. If you're looking for a novel to lose yourself in this summer, I have a feeling this one will hit the mark.
Book Info:

Publication: June 26th 2018 | William Morrow |
Deep within the peaceful heart of Amish country, a life-or-death emergency shatters a quiet world to its core. Number-one New York Times bestselling author Susan Wiggs delivers a riveting story that challenges our deepest-held beliefs.
Caught between two worlds, Caleb Stoltz is bound by a deathbed promise to raise his orphaned niece and nephew in Middle Grove, where life revolves around family, farm, faith—and long-held suspicions about outsiders. When disaster strikes, Caleb is thrust into an urban environment of high-tech medicine and the relentless rush of modern life.
Dr. Reese Powell is poised to join the medical dynasty of her wealthy, successful parents. Bold, assertive, and quick-thinking, she lives for the addictive rush of saving lives. When a shocking accident brings Caleb Stoltz into her life, Reese is forced to deal with a situation that challenges everything she thinks she knows—and ultimately emboldens her to question her most powerful beliefs.
Then one impulsive act brings about a clash of cultures in a tug-of-war that plays out in a courtroom, challenging the very nature of justice and reverberating through generations, straining the fragile threads of faith and family.
Deeply moving and unforgettable, Between You and Me is an emotionally complex story of love and loss, family and friendship, and the arduous road to discovering the heart's true path.