In Big Shot by Katy Evans, India Crowley has a love-hate relationship with her job…and her boss William Walker.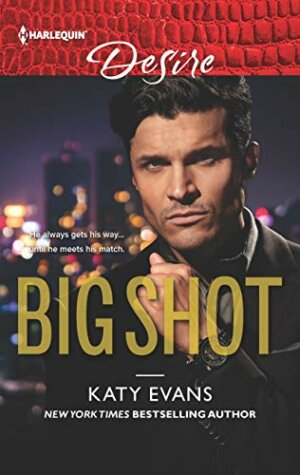 As his assistant, she gets the brunt of his frustration on a daily basis while she runs around making his life easier. Although somehow he's annoyingly sexy, even with his bad attitude. She has to admit she's nearing the end of her rope, though. So when she finally quits and moves on to fulfill her dream of writing full-time, Indy can't believe it when William asks her to help him out for a couple of weeks. William is way out of his comfort zone when he's asked (told) to watch is baby niece for two weeks. With no assistant and a company to run, he puts his pride aside and asks India for help. But as is the norm in their relationship, she doesn't make things easy for William. Not that he'd have it any other way. Especially when it gives him the chance to show her how he really feels about her–if he's brave enough to fess up, that is.
"I have a right to have my defenses up. If you want to change my attitude, try changing yours first. For longer than two minutes, that is."
She flounces off again, heading for the office. Damn, that woman knows how to be sassy. I throw my hands up in exasperation.
Big Shot had everything a reader looks for in a Harlequin Desire romance: steamy attraction, interesting conflict, luxurious surroundings, and a satisfying, fast-moving plot.
'He's kissing me like he's dying for it.
I'm kissing him back like it's the only chance I'll ever get.
But suddenly it's not enough.
I want everything. Every piece of him.'
I've been a long-time fan of Katy Evans (as you all know by now, lol) so I already had a feeling that the Harlequin Desire line would be good fit for her writing style. And it really has proven to be a fun ride, first with Boss, which was about William's half-brother Kit, and now Big Shot, in which we saw the real William, not just the business mogul he presented to the world. Plus this turned out to be a sensuous office romance where our characters started out as enemies. How can that not be a good time?
Even though William started off as an alphahole and was not the greatest boss to work for (that's an understatement), I thought Evans did a good job of showing us the reason why he got pigeon-holed into that persona. There was thankfully more depth to William than I first suspected. And I found it endearing that he was actually rather shy when it came to women and social interactions overall with the opposite sex, given how dominant he was in a business setting. It doesn't excuse his poor behavior at times–particularly with Indy. But seeing William with his young niece, and to see his realization of his growing feelings for India, was rather sigh-worthy.
In true Katy Evans style, Indy was a sometimes feisty, oftentimes sarcastic, super smart and capable heroine. She had me chuckling several times with her inner monologues about William, and that she knew just how to push his buttons to get him aggravated after being rude to her. Now, I did get a little frustrated with the mixed signals Indy gave at times. And at William for not manning up and taking a chance when she *did* make her feelings clear. In some ways it was part of the fun…with the crossed signals and missed opportunities. Thankfully these romances move fast so things worked out quickly and Indy and William got that passionate, all-consuming HEA they so deserved.
Whether you're a Katy Evans fan or a Harlequin fan (or both!), I think this boss/employee enemies-to-lovers romance will be a fun addition to your reading list.
Book Info:

Publication: August 1st 2019 | Harlequin Desire |
New York Times Bestselling Author
He always gets his way…until he meets his match.
"I need you back. Now."
—William Walker
I can't believe I'm letting my ex-boss talk me into working for him again. He's arrogant. Domineering. He gets under my skin in ways I don't want to admit. When I quit, it felt great! But now, seeing the big, bad billionaire rendered helpless by a baby, I give in to his demand. And I'm worried it won't be the last time…
—India Crowley