In Black and Blue (Otherworld Assassin #2) by Gena Showalter, Otherworlder Corbin Blue leads a double life: he is a trained assassin who lives under the guise of being a famous football player and ladies man. He is the best at what he does and it's all thanks to his mentor, and father figure, Michael Black. So Blue takes it personally when there is an attack on not just himself, but two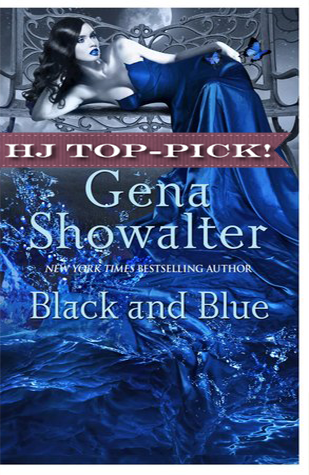 of his fellow black ops members and Michael as well. His only option is to work with Michael's daughter Evie Black to find out who is behind the attack. The problem? Blue and Evie get along about as well as water and oil mixed, yet have an unbelievable amount of sexual tension between them whenever they're in close proximity.
'Horror of horrors, some part of him found the moody woman appealing. And sexy. And sensual. And thrilling. Arguing with her turned him on.'
Evie Black left behind her days as a member of her father's black ops team after a job went bad, harming someone close to her. She's closed herself off from the world and now concentrates on her new career in medicine. But Evie still has the instinct of an assassin. Her first thought when Blue appears in her house is to turn him away. She doesn't need the headache that will surely be associated with the lothario. However, the fate of three men's lives are potentially in their hands. Evie will do anything she can to find them. Even if that means giving in to her volatile attraction to Blue.
'Stupid hormones. Now that they'd woken up, they were determined to gain her attention. Let us have Blue, just once, they shouted, and we'll go away again. Promise. Liars!'
Paranormal Romance lovers will rejoice when they read Black and Blue! First of all, it's Gena Showalter. How can it not be great? And secondly, this is almost like Mr and Mrs Smith, but with a paranormal twist. Lots of spy vs spy action and…well, lots of spy on spy action. 😉 Plus, look at that book cover!
I loved the writing style of this novel. Gena always uses a wonderful blend of action/fighting, sexual tension, deep-seated emotions and humor. The story seemed to flow easily and wasn't forced. I really enjoyed the funny, quirky side of our protagonists like some of the fake aliases they used and the nicknames they came up with for each other. Definitely made me laugh. And did I also see a reference to the Immortals After Dark series mentioned??
As for Black and Evie. Whew. Talk about hot! They have an intense love/hate relationship but you just know when (not if) they get together it will be explosive. They're both turned on by high-octane situations and love the adrenaline rush. Their attraction is complicated, though. Blue doesn't want to feel like he's betraying his mentor and Evie doesn't want to be just a casual fling. Their personalities truly are a great balance together. The way they tease each other and fight is equal parts hysterical and sexy.
I really can't recommend Black and Blue enough. You can read this as a standalone if you haven't read book one yet, but you will probably find yourself reading Last Kiss Goodnight next. This series is just that good!
Book Info:

HJ Top Pick  
Publication: October 22nd 2013 by Pocket Books
The sizzling second book in New York Times bestselling author Gena Showalter's Otherworld Assassin paranormal romance series.
He is every woman's fantasy…
Corbin Blue is a man of many talents. One of the most powerful otherworlders ever born, he is wealthy, a professional football star, and a legend in the bedroom. But only a select few know he is also a black ops agent…and there is no better killer. When he and his crew are attacked and separated, he's forced to turn to his boss's daughter for help—a woman with even more secrets than Blue.
She becomes his only obsession…
Evangaline Black has always been wary, guarded. No man has ever breeched her walls. Until Blue. He has never been denied something he wants, and now, he's decided he wants her. As he sweeps her into his double life of seduction, intrigue, and danger, he helps her see beyond the darkness of her own past. But as an enemy closes in, Blue will have to let Evie go to keep her safe—even though he'd rather die than live without her…