Black Box by Cassia Leo: Mikki plans to leave Boston and meets Crush when their flight to LA is cancelled due to the weather. Mikki has survived absolutely heartbreaking events. She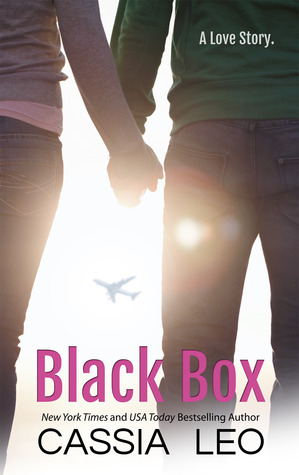 just wants some control over her life.
I want to be the type of person who makes plans for the future and finds beauty in a speck of floating dust, but that's not me. That's me only when I'm tripping on ecstasy or acid. Or when I switch to a new type of medication that really seems to work! Until it doesn't work anymore, then I'm back to being me. And I'm just so tired of being me.
Crush is a really good man who has had his own share of challenging experiences and is living with so much guilt. Crush is a sexy, steady rock who helps Mikki see the good in people and life. I absolutely loved Crush!
"If you try anything I'll kill you," she mutters, reaching for her purse. "And I don't mean that figuratively. I will actually murder you. I have nothing to lose."

"Not if I kill you first."
Mikki and Crush are two beautiful, broken characters who are perfection together. Cassia Leo crafted an amazing story with so many interwoven parts that just fit together. It's well-written with great descriptions of Boston and key locations in the story. The dual points of view really worked to get to know Mikki and Crush and see how the past has shaped who they are now.
Black Box is a beautiful, wonderful, heartbreaking, and intensely emotional love story. There are some difficult themes and it's a very emotional experience, but I highly recommend Black Box.
Book Info:

Published March 10th 2014 by CreateSpace Independent Publishing Platform (first published February 28th 2014)
From New York Times best selling author Cassia Leo, comes an epic love story about rewriting destiny.
Over the course of five years, Mikki and Crush cross paths on three separate occasions. Their first encounter changes Mikki's life forever, but their second meeting leaves them both buried beneath the emotional wreckage of a violent attack. Mikki is left with more questions and grief than she can handle, while Crush is forced to forget the girl who saved his life.
Now nineteen years old, Mikki Gladstone has decided she's tired of the mind-numbing meds. She books a flight to Los Angeles to end her life far away from her loving, though often distant, family.
Twenty-one-year-old Crush has always channeled his blackest thoughts into his music, but he's never had great aspirations. He decides to fly to Los Angeles to record a demo of the only song he's never performed in public; a song he wrote for a girl he doesn't even know: Black Box. He has no expectations of fame and he's never felt like his life had any purpose… until he meets Mikki in Terminal B.
When Mikki and Crush cross paths for the third time in Terminal B, neither has any idea who the other person is; until they slowly piece together their history and realize that fate has more in store for them than just another love story.