Blame It on the Billionaire by Naima Simone is a steamy romance for a couple caught out in a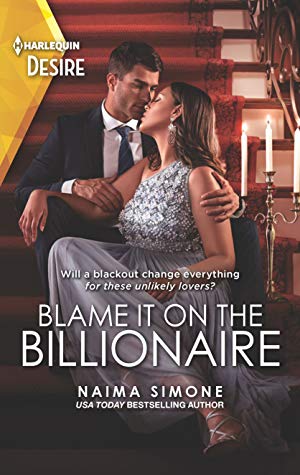 blackout whose one night together turns into something more.
Grayson Chandler still feels the grief of the loss of his older brother, a man who was supposed to take over the family dynasty. He's the 'spare' and his mother wants to see him take over the company reins and get settled, choosing a woman totally unsuited for him – his ex-fiancee. When a blackout at a society function has him sharing a night of scorching passion with a woman who turns out to be a company employee, he devises the perfect scheme to thwart his mother's plans.
When executive assistant Nadia Jordan encounters her crush Grayson, global tech company Kaycee Corps president, at the society party where she's been tasked to deliver something to her immediate boss, she never expects it to lead to anything. But in the dark, it's easy to let passion take over. When Grayson finds out who she really is he's furious, having never compromised his work ethics before by getting involved with an employee. But now he needs her help – pretend to be engaged to him to get his mother and ex to back off. He's willing to pay handsomely for a few months of Nadia's time and at first she refuses. But when her younger brother whom she's cared for and took out of a neglectful home environment gets a chance to go to Yale she comes back with a deal. All she wants is enough money to help send him through school for the 4 years of his degree and she'll agree to play at being Grayson's girlfriend. But for how long can they keep up the charade before it start to feel all too real?
I've enjoyed all of the author's Blackout Billionaire's series and this one is another intense and passionate read! Grayson's been struggling with grief over his brother's untimely death and the expectations of his parents to take over the family company. Since he's been quite successful branching out on his own with his partner Gideon Knight, he doesn't need any handouts – he just wants his parents to recognize his own independent business success. And knowing his ex-girlfriend is only interested in him for his money has soured him on relationships.
His arrangement with Nadia is just what he needs. They are both on the same page about keeping their hearts safely uninvolved, despite their easy and compelling attraction to each other. But as they share details of their lives with each other it gets harder and harder to keep that emotional distance. Nadia has worked hard to provide for her brother since they left their neglectful mother, a woman who relied on rich men for handouts, and she's only letting Grayson pay for what she needs, a refreshing change for Grayson to find a woman not after his money. The drama with Grayson's ex comes to a head and makes things a bit rocky for them, during which time Nadia stands up for herself and doesn't let Grayson back in without some real effort. I enjoyed all the secondary characters in this novel too (minus the ex!). Once again the author delivers a thoroughly enjoyable and sexy romance.
Book Info:

Publication: Feb 01, 2020 | Harlequin Desire | Blackout Billionaires #3
Will a blackout change everything for these unlikely lovers?
She fell into his arms.
Now she's falling for his trap.
It was a night filled with secrets, lies…and soul-stealing passion. And now the blackout that turned lowly executive assistant Nadia Jordan and start-up billionaire Grayson Chandler into insatiable lovers leads to a proposal Nadia can't refuse. As she steps into Grayson's privileged Chicago world, will his matchmaking mother and vengeful ex destroy her dreams? Or will her fake fiancé make those dreams a reality?