In Blame It on the Duke (The Disgraceful Dukes #3) by Lenora Bell, Nights of excess and self-indulgence have been Nicolas, Lord Hatherly's, norm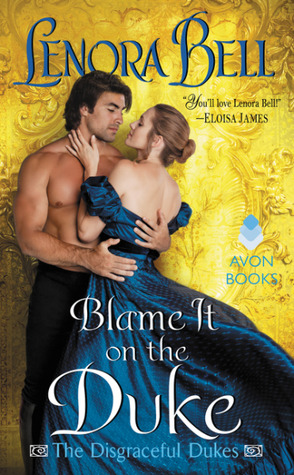 for so long that he can't recall any other way of existing. But he gets a rude awakening when his father, the mad Duke of Barrington, gambles him away in a game of cards. The winning recipient? Miss Alice Tombs, a pretty but rather odd young woman who is the polar opposite of Nick's debauched persona. It appears to be anything but a match made in heaven. That is, until Alice proves to be a captivating, intelligent woman with a hidden sensual side that rivals Nick's. That's when he knows he is in trouble. Because she has the power to hurt him deeply should she ever decide to leave.
'She was fearless and unconventional and she wasn't his to keep.
She was something of the wind that blew through his life and lifted the dust from his heart.'
Alice has spent the last three years using her intellect to turn away unwanted suitors. And at this point, they are all unwanted, as her goal is to one day travel to India and put to good use her knowledge and love of foreign languages. But just when she was one step closer to her dream, Alice finds out that her merchant father has procured her a husband in the most unconventional way: in a gambling wager. She's quite aware of Lord Hatherly's reputation as an unrepentant rake and is at first taken aback. But maybe Nicolas and Alice can both get something out of the deal. He'll be able to keep his family home and she'll be allowed to travel abroad. What she wasn't prepared for, however, was for her emotions to become involved and to fall for the handsome, naughty lord she agreed to marry.
"Don't go thinking I'm more than I appear, Alice. What you see is what I am." He spread his arms wide. "Descendant of madmen. Idle aristocrat. Pleasure-obsessed rake."
Alice couldn't accept his words anymore. He spoke with too much feeling, and too much pain.
Oh, what a fun time I had reading Blame It on the Duke–just as you would expect from a story about an infamous rake, a bluestocking, and their marriage of convenience.
'In short–Miss Tombs was his favorite kind of trouble. An intelligent woman who would match him in wits and sensuality…and then leave him in peace.'
This was actually my first time reading Lenora Bell's work, although I do have the previous two books in this series on my TBR. And after so thoroughly enjoying this, I'm definitely going to go back and read those as well! Bell just had a way of completely capturing my attention with her very flawed but likable characters and the balance of their witty humor and the personal issues they were trying to overcome. Especially with our hero, Nicolas (Nick). There was a bit of hidden depth to the guy who was known only for his penchant for debauchery and his family's history of madness. And I loved getting to see what made him tick and what was driving Nick's "live for the moment" attitude.
Marriage of convenience tropes can be quite entertaining in historicals and Blame It on the Duke was no exception. Alice and Nick might have been thrown together because of a gambling wager, but no one could have foreseen the sparks that would fly between them. Particularly Alice, who only wanted to gain her freedom so she could travel abroad in her pursuit of language studies. I really liked that Nick was captivated by her right away, by her charming bluntness and her intelligence. And of course Alice, being inexperienced and naive, was drawn to naughty but ultimately honorable Nick. It was a match that made me smile. Even though Bell kept us wondering until the very, very end to see how it would all work out. 😉
A mishmash of quirky characters and a tiny thread of intrigue kept this historical romance lively. Blended in with honest emotions, strong reactions, and earnest, heartfelt scenes, I'd say Lenora Bell has a winner on her hands with Blame It on the Duke.

Book Info:

Publication: April 18th 2017 | Avon | The Disgraceful Dukes #3
Have you heard?
The future Duke of Barrington has just been gambled away by his father. To an heiress!
The delicious details thus far…
Nicolas, Lord Hatherly, never intended to marry—nor add to the "mad" Hatherly line—but now he must honor his father's debt to a social-climbing merchant or lose the family estate.
A notoriously wild marquess, won by her father at a game of cards, is the very last thing Miss Alice Tombs wants. She's spent the last three seasons repelling suitors in spectacular fashion so she'd be at liberty to explore the world. She'll just have to drive this one away as well.
Until Nick proposes an utterly tempting arrangement: one summer together to prove the legitimacy of their union, then Alice is free to travel while Nick revels in the time he has left before the Hatherly Madness takes hold.
It will be easy to walk away after a few months of make-believe wedded bliss—won't it? Alice and Nick are about to find out…one sultry night at a time.
This ought to be fun . . .