Bound by the Billionaire's Vows by Clare Connelly is a passionate romance for a married couple on the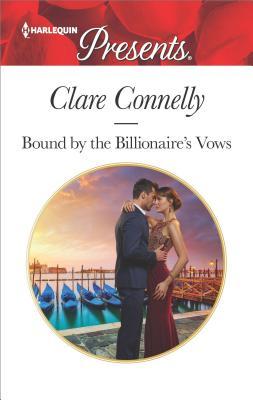 verge of divorce who find themselves with a second chance to make things right.
Skye was devastated to learn that her husband has pursued her not for love, but for revenge. Leaving him for several weeks, she comes back to ask for a divorce, but is thwarted when her husband finds out she's pregnant.
Matteo should have been willing to let Skye go. His goal in marrying her was to regain control of the hotel that is his family legacy. Though he didn't intend to hurt Skye, he didn't love her either. When she offers him the divorce in exchange for the hotel, it should make him happy. But discovering she's pregnant changes everything. He believes they can make something of their marriage for the sake of the child, even if love doesn't come into play. But when they reconnect in the bedroom, the desire that is never far from the surface leads to more. Will Matteo realize his real feelings for Skye before it's too late?
I really enjoy Clare Connolly Harlequin Presents novels and find them to be exciting, dramatic and passionate romances. This one has a heroine who fell for the man who became her husband only to realize her feelings are one sided. Lust and desire are always there, but that's not enough for her. Her pregnancy changes all that and lets her and Matteo grow closer. It also gives them a chance to right the wrongs of the past, for Matteo to share with Skye his family history and for Skye to be able to forgive him when he seems sincere in his desire for a real family. Whether she can live without his love soon becomes a more urgent question when tragedy strikes.
The author does a great job of redeeming Matteo and having him come to the realization that he wants his wife more than he wants the family legacy. The end results is a happy one, with a sweet satisfying epilogue.The setting of Venice is beautifully rendered here, and makes for a lovely backdrop for the story. This romance will entertain readers who like to see their heroes grow and admit their mistakes on their way to true love.
Book Info:

Publication: July 17, 2018 | Harlequin Presents |
"I have a condition…"
Can she agree to her husband's terms? When heiress Skye learns her marriage to Matteo was built on lies, she demands a divorce. A pawn in his revenge, Skye's heart shattered when she discovered her husband's game. The clock is ticking; she needs his signature. But Matteo is not willing to let Skye go so easily–the price of her freedom is one last night together!