Bound by the Sultan's Baby by Carol Marinelli gives us a tantalizing glimpse into the life of Sultan Alim al-Lehan, a man who would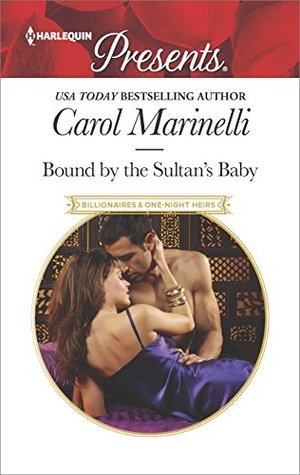 like nothing more than to continue living his more carefree life in Rome where he owns and manages an exclusive hotel, the Grande Lucia. He is fiercely proud of his country Zethlehan, but not ready to take over as ruler. Soon Alim will be duty bound to go back to his home country and find a suitable wife. Yet he can't keep his eyes from the sweetly alluring Gabi.
Gabi Deramo loves her job as a wedding planner at Matrimoni di Bernadetta, especially because it often brings her to the Grande Lucia and gives her a chance to interact with handsome, sophisticated Alim. After one particularly emotional wedding, Gabi and Alim surrender to the attraction between them in a night of passion. Alim's future is pre-destined and when things take an unexpected turn Gabi is left hurt and alone – and pregnant. It's not long before Alim finds out about the baby. Can he find a way to fulfill his duty to his country, his family, and the woman he loves?
This is a delightful story of second chances, with emotionally complex family situations and an intriguing plot. I really enjoyed Gabi's career as a wedding planner and all the backstage drama (so to speak) of planning weddings for very wealthy individuals – including, as we soon find out, Alim's half brother's wedding. That's part of the complication, the fact that Alim's father has a wife but also a mistress and there are half siblings that bear the brunt of the archaic rules of Alim's desert country.
Gabi is a smart and resourceful woman with an eye for detail and a dream of owning her own wedding planning business some day. She's been attracted to Alim for ages, and when he offers her a night together, she can't resist. They share some sensual love scenes together. But Gabi doesn't want to end up as Alim's mistress while he takes a dutiful wife – she's willing to play the part of lover only for as long as Alim isn't married, regardless of whether it's a marriage of convenience or not. When the choice is taken away from her, she is hurt but resilient and goes on with her life, even once she finds out she is pregnant.
Contrary to many desert sheikh heroes, I found Alim to be a straightforward and likable character, without the arrogance typically found in a wealthy man. He knows his duty and he makes it clear to Gabi what he can offer and what he can't. And he treats her with respect, even in the scenes where he knows his choices will hurt her emotionally. He is torn between his feelings for her and his duty to his country. But he finds a way to give them the happy ending they deserve in a sweet and touching finale. It's a delightful story with opulent and lush settings, intriguing characters and a lovely romance.

Book Info:

Publication: Apr 18, 2017 | Harlequin Presents | Billionaires and One-Night Heirs #2
A scandalous royal consequence!
One night with innocent wedding planner Gabi was not enough for Sultan Alim al-Lehan, but duty called him home. Memories of their forbidden pleasure prove impossible to forget especially when he discovers Gabi has just returned from maternity leave!
The baby must be his, but if Gabi won't tell him, Alim will seduce the truth out of her! Commanding that she arrange his wedding, even if he's not yet picked a wife, is the ideal ruse. Alim wants her in his bed, but must decide as a sultan's mistress or bride!