In Breaking the Bro Code by Stefanie London, Col Hillam's first thought when facing a potential disaster with a work presentation was to enlist the help of his childhood friend (and crush), Elise Johnson. She is the only one who ever understood him and could help him face his fears without making him feel bad about it. But after the way they left things when he moved from Australia to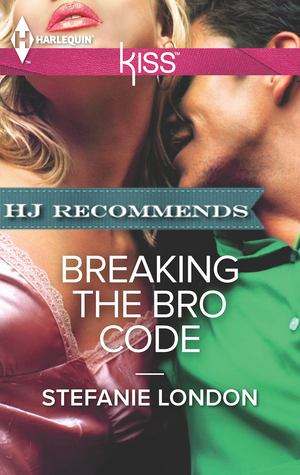 the States, Col's not sure of the reception he'll receive. Elise is even more beautiful than he remembered, standing in her ballet studio when they speak for the first time in five years. She's understandably upset with him. Col will do anything to have some precious time with Elise, but will they be able to overcome the past and forge a new relationship?
'He could do business with the most powerful people in the world, but the potential wrath of a tiny ballerina was enough to set him on edge.'
Ex-ballerina Elise Johnson has never been able to convey her emotions. At all. It's the reason she wasn't able to hold on to her friendship or her burgeoning love affair with Col so many years ago. He's the only guy to ever make her actually want to show the emotions she holds so close in check but he ruined that when he took off so suddenly. When he shows up at her studio asking for her assistance, Elise knows she shouldn't give Col the time of day and that she should protect her heart. But there's more to his disappearance to the U.S. than she ever expected. Maybe giving in to their attraction this time won't lead to heartache again. Or so she hopes.
"You're impossible." He brought his mouth down to hers, hot and forceful. "You're maddening and frustrating and …"
"And?"
"Insanely hot."
Breaking the Bro Code is a romance that flirts with some darker issues but ultimately is a heartwarming look at two people who are perfect for each other.
Not only is this a second chance romance, but this is also about a young woman who fell for her brother's best friend, making things much more complicated. I liked that Elise was the only one who could calm Col down both as a kid when he was running from his abusive dad, and as an adult when he came to her for help. They had a very strong connection with lots of yummy sparks. Their time apart also created a love/hate vibe when they reunited thanks to some miscommunication, which was all sorts of awkward, but seemed very realistic.
I really enjoyed the storyline, with Elise and Col collaborating on his work issue, and with the inclusion of their friends and family. The dialogue was fun when it was relevant, and definitely poignant as they discussed their childhood issues. Their romantic scenes were very sexy, but I liked that there was still that emotional connection they shared as teenagers. I easily could understand why Elise and Col each still had their own personal struggles, given what they had gone through growing up. But I'm happy to say that it all ends well with a super romantic HEA.
If you're looking for a quick but enjoyable romance with deep emotions, definitely give Breaking the Bro Code a try.
Book Info:

Published August 9th 2014 by Harlequin
Off limits…and oh-so-tempting!
Elise Johnson has more important things to concentrate on than men…saving her struggling ballet studio for starters! So when gorgeous Col Hillam–her brother's best friend–saunters back into her life, she's none too keen. He might be proposing a purely professional arrangement, but the last time they got carried away by their crazy attraction it ended in disaster!
Col knows Elise is off-limits, but it only makes her more tempting…. With chemistry this hot, surely that bro code is now null and void…?