Every now and then a writer is able to compose a book that you fall in love with, which impacts you in such a way that even when you have finished reading, the story seems to live on in your soul. Breathless by Dakota Harrison is one of those kind of books. It held my heart in a vise from beginning to end.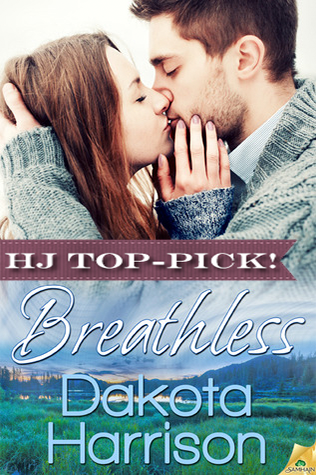 Emma, a pretty twenty-nine year old from Australia, decided to relocate to the small town of Jefferson's Crossing Colorado, a few years after a horrific tragedy changed her life forever. Escaping from the constant memories, guilt and gossip was necessary in order for Emma to remain sane. She is looking forward to making new friends and being on her own.
Gabe, a handsome veterinarian and ranch owner, felt something for Emma the minute she stepped into his brother's bar and asked for directions. However, due to a previous relationship gone bad, he has no desire to get involved with anyone, ever again.
Emma's presence has turned the little town upside down and she seems to be the greatest thing since sliced bread. All the men want to date her, while some of the women already hate her. Emma has become fast friends with Gabe's twin sister Darcy, who believes Emma and Gabe are a true match. Darcy does everything in her power to make them realize they belong together.
The sexual tension between Emma and Gabe is noticed by everyone. Their eventual sexual encounters are full of heat and passion. However, only complete honesty, love and understanding will lead to a future together.
Most of the time as I read a book for review, I jot down some notes and ideas in order to ensure that I remember the highlights of what I think the reader would like to know about. However, sometimes I read a book from cover to cover, without a break, because it is just, so, good. This is one of those books and believe it or not, some of the chapters actually left me breathless. It is an amazing, compassionate story and I was completely blown away by the feelings it evoked. It is well written, sensual and emotional. Ms. Harrison is a talented storyteller and I look forward to her next novel.
Book Info:

Publication: October 29th 2013 by Samhain Publishing
"She ran half a world away to escape from her past…and found the one man who can heal her heart. "
It's been three years since a seemingly insignificant decision destroyed Emma's life. Western Colorado is a long way for an Australian girl to run from the suffocating guilt she feels, but it isn't far enough.
So she's made herself a promise: No men, no responsibility. Ever again. That was before her pipes burst, and the crusty old plumber she was expecting turns out to be six-foot-two of brooding hardbody with a killer smile-which he rarely aims in her direction.
Gabe doesn't like it. Even through a layer of plaster dust, Emma's beauty shines through and grabs him hard. Her laugh wraps around his lungs until he forgets how to breathe. But he's still looking for pieces of the broken heart another woman's betrayal left in its wake. Pretty women are trouble, end of story.
Too bad no one told his determinedly matchmaking sister. Her efforts could crash and burn, for all he cares. He's not interested, not now, now ever. Now if he could only convince his body.