In Bridal Boot Camp (Little Bridge Island 0.5) by Meg Cabot, Roberta "Rob" James has to admit that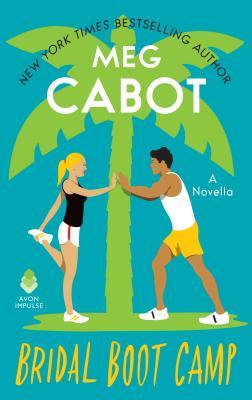 life on Little Bridge, and island in the Florida Keys, is pretty sweet. She's a personal trainer who specializes in a bridal boot camp, where brides-to-be can get in shape before their big day. And it's in one such class where local deputy sheriff Ryan Martinez shows up. In the wrong class. But who is Rob to turn away a sexy–er, paying customer who needs some fitness help? Soon they can't deny the chemistry between them. And although neither Ryan nor Rob are looking for a relationship, it seems a promising one might just have found them.
"All those brides–they don't come to that class because you're helping them look good in their wedding dresses, or whatever. They come because you make them feel good. You give them hope."
A super brief but very cute story to introduce us to Meg Cabot's new series, Little Bridge Island, there was enough humor and sparks of attraction to make Bridal Boot Camp a highly entertaining read.
"I like you, too. So why are you so pissed at me?"
"I'm not pissed at you," I said. "I'm pissed at myself."
"What for?"
"For not doing this sooner."
I reached out and grabbed him by the collar of his guayabera, then pulled him roughly toward me, pressing my mouth against his.
I'm not kidding when I say this was quite a short story. Bridal Boot Camp was under one hundred pages, but it kept up a steady pace to pack in a lot of information–and was a great way to meet the locals on Little Bridge Island. This focused mainly on Roberta (aka Rob), a physical trainer, and Ryan, a sheriff's deputy who had a meet-cute when he crashed her fitness class. Both were a little hesitant to start a new relationship after being burned before, but their connection was instant and couldn't be denied.
As is always the case with Cabot's writing, she threw in lots of fun moments as well as some interesting secondary characters I can't wait to get to know better as the series continues. I have a feeling we will see a lot more from Ryan and Rob and their crazy chemistry in the upcoming first full-length novel, No Judgements, which promises to be full of lively conversations, humor and heart as you would expect from Cabot.
If Bridal Boot Camp is any indication, then the Little Bridge Island series will certainly be a hit. Set in the beautiful Florida Keys, the tropical background will only add to the steamy romance in Meg Cabot's latest creation.

Book Info:

Publication: May 28th 2019 | Avon Impulse | Little Bridge Island 0.5
From #1 New York Times bestselling author Meg Cabot comes the first story in her Little Bridge Island series—which also includes an excerpt from her forthcoming new full-length novel No Judgments!
Looking for a tropical escape?
Welcome to Little Bridge, one of the smallest—and most beautiful—islands in the Florida Keys, home to sandy white beaches, salt-rimmed margaritas, stunning sunsets, and some of the quirkiest—but also kindest and most resourceful—people you'll ever meet.
Physical trainer Roberta "Rob" James moved to Little Bridge hoping she'd found paradise, but things haven't turned out quite as she'd hoped. The closest Rob has come to her "happily ever after" is happy hour at the Mermaid Café with her buddy Bree, the bartender slash waitress who's got romance problems of her own.
But Rob's situation suddenly changes when sheriff's deputy Ryan Martinez accidentally enrolls in her bridal boot camp class. Turning mush into metal in time for the big day is Rob's passion (because even the happiest bride could use a little toning).
But what happens when a guy who's all mush meets a girl who's all metal?
They discover they have a lot to learn . . . about each other, themselves, and the island paradise they've come to call home.