Bring the Heat by Jo Davis: Austin is currently involved in a bitter divorce from his estranged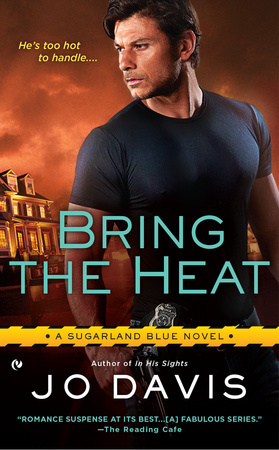 wife. While their marriage is clearly over and they are no longer in love, Austin is still devastated when his wife was murdered. While grieving, Austin also has to deal with the fact that he is a suspect in her death. He's on leave but he is determined to catch the person responsible for Ashley's death.
Laura has been in love with Austin for some time. As the medical examiner, she's used to working closely with the police department and Austin on cases. When it seems like Austin's life is falling apart, she steps in as a friend to help and support him. She's just as determined as Austin to find the person responsible.
Austin is grateful for Laura's presence in his life, but he's also wary. He's being targeted by a stalker and he can't take someone else he cares about getting hurt because of him. On the other hand, he's wanted Laura for a while and it's getting harder to resist the tempting ME.
"Danny's a sweet man. Cute, too. Why wouldn't I want to find out if we're compatible?"
Austin's face darkened. Oh, that look! She'd poked a sleeping lion with an electric cattle prod.
"Danny's an innocent kid," he ground out.
"I'd hardly use that term to describe a police lieutenant. I have a feeling the man doesn't get the credit he deserves. Anyway, I'm not interested in Danny, but thanks for the heads-up."
Between burying Ashley and dealing with the stalker's increasing attacks, Austin badly needs the comfort that Laura provides. He is torn between his desire for her and his need to keep her safe. Both know that the closer they got, the more likely Laura will be targeted by the stalker.
"Oh, no. Come on. You got something against us being happy for more than five minutes?"
"Promise me you won't get uptight and we'll be dandy."
"No deal. The alarm bells you're setting off are jacking with my headache."
Laura took a deep breath. "Okay, I've been thinking-"
"Strike one."
Bring the Heat is a thrilling suspense where falling in love may lead to losing the one person you need. Jo Davis brings a really good balance between the romance and the suspense aspects of the storyline. Ms. Davis provides a tight knit and interesting cast of characters in the members of the Sugarland Police Department. Bring the Heat can be read as a standalone. Fans of Marie Ferrarella will enjoy Bring the Heat.
Book Info:

Publication: December 1st 2015 | Signet | Sugarland Blue #5
The author of On the Run and the Firefighters of Station Five series once again proves that nothing is hotter than loving a man in uniform—or more dangerous…
Being on the Sugarland P.D. means never backing down, no matter how intense the case—or how dangerous the attraction…
Captain Austin Rainey knows all too well that being a good cop sometimes means gaining some bad enemies. After his ex-wife is killed, he finds himself on the wrong side of the law, trying to prove he's innocent of her murder. The last thing he needs is a distraction—especially of the irresistible female kind…
Medical examiner Laura Eden has always found Austin more than a little intriguing, but she's kept her feelings under wraps. Now she's determined to do her job and clear his name—but as her investigation brings them into close proximity, she can't deny the attraction between them—or resist the temptation he presents.
But Laura and Austin soon realize their budding feelings might be more than emotionally perilous. Someone is coming after everyone Austin holds dear—and Laura might be the next one in the line of fire…