Where to I begin to describe the thoughts and feelings about Can You Keep a Secret? by Sophie Kinsella brought out in me. Let me start by saying that this book is on my Top Ten MUST read books of all time. This is the first book that I have read by Kinsella and I can tell you right now, if the others as half as good as this one was, I have now found a new favorite author.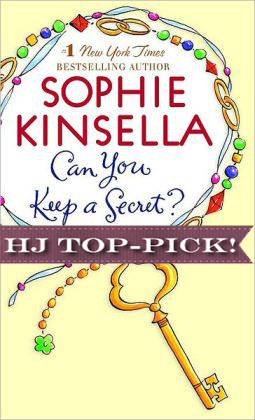 Let me start with Emma. She is quirky, she is sweet, she is friendly, and she keeps secrets! Lots and lots and LOTS of secrets. On a very turbulent flight back to London, (yep, she is terrified of flying) thinking that she might die (yep, she is a bit on the dramatic side sometimes too) she decides to unload all of her secrets on the American sitting in business class next to her. Once realizing that indeed they are not going to die, and that she just told a complete stranger all of her most intimate secrets, she runs off the plane thinking she will never see him again. WRONG! Tall, dark, handsome, and now confidant of all her secrets is none other than the President/CEO/Owner of the Panther Marketing Firm where she is employed.
Jack Harper is shocked, and somewhat amused to walk into the marketing department of Panther and find none other than the cute young woman that spilled her guts to him on the fight over. Jack has fun reminding Emma at ever turn that he remembers EVERYTHING that she told him. But Jack has a secret or two of his own, and as we all know, one way or another, secrets always have a way of coming out.
I loved Emma! She is everything that a lovable, quirky character should be. Her reason for keeping secrets is to spare hurting her friends and family, insulting them, or disappointing them in some way. In trying to describe Emma, I think this quote fits her to a tee:
"She believes in love and romance. She believes her life is one day going to be transformed into something wonderful and exciting. She has hopes and fears and worries, just like anyone. Sometimes she feels frightened. Sometimes she feels unloved. Sometimes she feels she will never gain the approval from those people who are the most important to her. But she is brave and good-hearted and faces life head on."
This is just who Emma is, through the fear, the setbacks, the secrets, the scandals, the heartships, she keeps on believing and hoping and trying. That is what makes her so special to me.
I loved Jack. I loved his sense of humor. At times he came off a bit aloof, but as the story progresses, you begin to understand him more. I though that he enhanced the story and made some of the situations with Emma even funnier. He is the kind of hero that just makes you want to find someone just like him.
The roommate, Lissy and Jemima are hysterical at times, but in the end, I have to say, I HATED Jemima. Not because she was a horrible person, but because in not listening to Lissy and Emma, she ALMOST single handedly ruined things for Emma and Jack. Lissy is the BFF that everyone should have. She stands by Emma no matter what, and always has her back.
Conner, I felt sorry for at first, but after awhile, he just needed to move on and get over it. Although he did not deserve for things to end the way that they did, he just needed to accept it and move on.
Over all I LOVED this book. It had humor, it had angst, it had wonderful characters, funny situations, and in the end, one of the BEST HEA that made the journey worth the ride. I HIGHLY recommend this story to anyone that marches to the beat of their own drum, believes that their lives will be exciting and special, and for anyone that still believes in HEA. I give this wonderful book 5 secret stars!
Book Info:

Publisher: Random House Publishing Group. Publication date: 12/27/2005
With the same wicked humor, buoyant charm, and optimism that have made her Shopaholic novels beloved international bestsellers, Sophie Kinsella delivers a hilarious new novel and an unforgettable new character. Meet Emma Corrigan, a young woman with a huge heart, an irrepressible spirit, and a few little secrets:
Secrets from her mother:
I lost my virginity in the spare bedroom with Danny Nussbaum while Mum and Dad were downstairs watching Ben-Hur.
Sammy the goldfish in my parents' kitchen is not the same goldfish that Mum gave me to look after when she and Dad were in Egypt.
Secrets from her boyfriend:
I weigh one hundred and twenty-eight pounds. Not one eighteen, like Connor thinks.
I've always thought Connor looks a bit like Ken. As in Barbie and Ken.
From her colleagues:
When Artemis really annoys me, I feed her plant orange juice. (Which is pretty much every day.) It was me who jammed the copier that time. In fact, all the times.
Secrets she wouldn't share with anyone in the world:
My G-string is hurting me.
I have no idea what NATO stands for. Or even what it is.
Until she spills them all to a handsome stranger on a plane. At least, she thought he was a stranger.
But come Monday morning, Emma's office is abuzz about the arrival of Jack Harper, the company's elusive CEO. Suddenly Emma is face-to-face with the stranger from
the plane, a man who knows every single humiliating detail about her. Things couldn't possibly get worse—Until they do.