In Can't Wait by Jennifer Ryan, Summer Turner has had her sights set on Caleb Bowden, her brother Jack's best friend, since the moment they met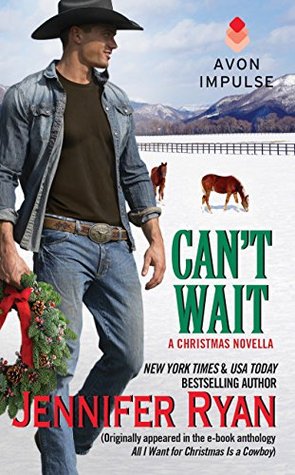 on her family's ranch. The attraction was instantaneous. But Caleb holds Summer at arm's length, refusing to act on their chemistry. The guys, both ex-Army Rangers, formed an unbreakable bond while serving overseas. So Caleb doesn't want to test that bond by entering into a relationship with Jack's younger sister. There are just some bro-codes you don't break.
"It's complicated. You're his baby sister. He's protective of you."
"He trusts you with his life. Don't you think he'd trust you with my heart?"
Summer is sure that Caleb feels the same way she does. She knows it will be up to her to steer him in the right direction and ensure that he and Jack can work through the awkwardness their new relationship may initially cause. Summer hopes her subtle plans will lead her straight into the arms of the struggling cowboy that's stolen her heart. But Caleb isn't going to give in easily and must decide if he wants to see where things go with Summer, or turn tail and head back to his family's ranch in Montana.
He kept his hands on his thighs until she kissed her way along his jaw to his ear and whispered, "Take me to bed."
A military man, used to carrying out orders, he had no trouble following hers.
Jennifer Ryan has done it again. She's created the perfect alpha male and his equally wonderful feisty love match. This may be a short story, but believe me, it's not short on emotions or intense connections.
In-love-with-my-brother's-best-friend tropes are always entertaining. And here, author Jennifer Ryan added a whole other element to the story with Caleb being a tough ex-military guy who was also a stetson wearing cowboy. I know. Just let that sink in for a moment… I have to say, the combination was pretty dang hot. The fact that Caleb was so sincere in his feelings for Summer, trying to do the right thing by not giving in, so as not to hurt his friendship with Jack was wonderful to read. How can you not like an alpha male who has a heart of gold?
I thought the plot itself was quite interesting, especially how Summer had set a couple of plans into motion to help Caleb along in his intentions to "court" her. I'm not a fan of characters who are manipulative, but I didn't get that sense here at all. Instead it felt like Summer just knew Caleb that well; that she could anticipate what his actions would be. I really thought they were such an in-tune couple. There were a lot of fun scenes they had together, but I think my favorite was the snowball fight. That turned out to be not only comical, but a pivotal moment in their relationship.
If you're looking for a quick holiday romance that will leave you satisfied, definitely check out Can't Wait. This prequel novella to the Montana Men series coming out in early 2015 will be sure to heat you up this winter.
Book Info:

Published November 11th 2014 by Avon Impulse
Originally appeared in the e-book anthology All I Want for Christmas Is a Cowboy.
Jennifer Ryan, author of the New York Times bestselling The Hunted Series and the upcoming Montana Men Series, takes us to the very beginning in this Christmas prequel about two people who finally receive the one thing they've always wanted … each other.
Though she is the woman of his dreams, Caleb Bowden knows his best friend's sister, Summer Turner, is off-limits. He won't cross that line. Summer shares a connection with Caleb she's never felt with anyone else, but the stubborn man refuses to turn their flirtatious friendship into something more. Summer will have to take matters into her own hands if she wants her cowboy for Christmas.