Carrying the Sheikh's Baby by Heidi Rice: Catherine is a dedicated researcher and professor. She dreams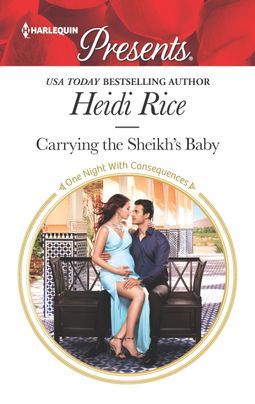 of exploring the lands and cultures that she researches, but has learned to rein in her more impulsive and adventurous side. She's hoping to get the approval to formally research the country of Narabia as the country is undergoing major changes.

Zane is the commanding, charismatic, and dynamic sheikh of Narabia. He's determined to bring about change to his country. He's definitely an alpha male who expects everyone to fall in line with his wishes. He doesn't believe in love and he's not looking for commitment.
Cat is surprised by the job offer to write a book about Narabia and have the opportunity to travel there. It's a dream come true, except she's unused to the powerful and overwhelming feelings Zane brings out in her. He challenges her to take this job despite his own inconvenient attraction to her.
'You are vulnerable. You should never have gone to the market with Kasia when you have no means of protecting yourself. You know nothing of our customs. Our culture.'
'And whose fault is that?' she said, her voice measured but firm, inflaming his already inflammatory temper even more. 'You brought me here to do a job but you won't let me do it.'
She definitely challenges Zane in unexpected ways and he's surprised that he enjoys their banter and her defiance. Cat is quickly intrigued by the country, people, and especially Zane. They grow closer than expected and can't fight their attraction. Marriage may be their only option with an unexpected pregnancy.
She leaned into his palm. 'Why not, if it's the truth?'
'You're leaving yourself defenceless. Don't you get that? You've already given me too much. You need to protect yourself. I'm not a kind man, or a good one.'
Carrying the Sheikh's Baby has exotic locations, passion, conflict, and new adventures. Heidi Rice created two very different characters with similar backgrounds who complement each other. Ms. Rice provided great secondary characters in Zane's staff and family. Fans of Kate Hewitt and Carol Marinelli will enjoy Carrying the Sheikh's Baby.
Book Info:

Publication: Published December 18th 2018 | Harlequin Presents |
Hired by the sheikh…
And expecting the royal heir!
When shy, academic Cat Smith is hired as a researcher by Sheikh Zane, she's thrilled—and completely dazzled by their overwhelming chemistry! Cat knows a fling could compromise her professional credibility, but resisting Zane's sensual caress feels utterly impossible. Until their passionate encounter has lasting consequences… Now carrying the heir to the kingdom means one thing—Cat must become Zane's queen!
Enjoy this scandalous royal baby romance!