Christmas Contract for His Cinderella by Jane Porter is a passionate and thoroughly enjoyable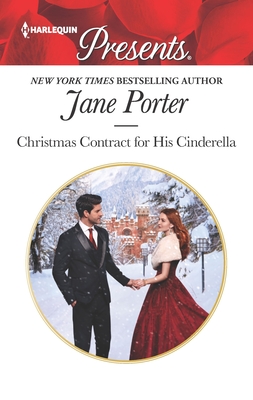 second chance romance.
Monet and Marcu have a complicated history. At one time, Monet's mother was Marcu's father's mistress and she and her mother lived with the Uberto family. Monet grew up with them and their traditions, and had a serious crush on Marcu. When she was 18, they almost slept together but were caught by Marcu's father and Monet overheard Marcu's father telling him that Monet was not a woman he could ever marry. Crushed, Monet begged a favour from Marcu, that he would help her leave Palermo, and once gone, she never looked back.
Years later, Monet is working at a bridal salon when Marcu comes back into her life. His wife died a few years ago, leaving him with three young children. Their full time nanny will be away and Marcu has come to claim the debt she owes him for helping her leave Palermo. For a few weeks, he needs her to come and care for his children in their Sicilian estate as their nanny while he plans an engagement to another woman for a marriage of convenience. Monet cannot refuse Marcu's request. She thought she'd put Marcu in the past, but could this be their second chance?
I loved this Christmas themed romance! It's got some echoes of the plot of The Sound of Music – a woman becomes a nanny to some children, their strict father plans to marry someone else but falls for the nanny instead –there's even a part where Marcu has avoided music since his wife died and Monet is able to bring that joy back to his life and to his children (but no worries, they don't start a family singing troupe). But of course there are plenty of differences too, with Marcu and Monet's complicated history. Monet doesn't want to be mistaken for being like her mother, a woman good enough for sex but not for marriage, though she finds out later in the story that in fact, Marcu's father had proposed to her mother and she had turned him down.
The setting of this story is beautiful, with the wintry 12th century castle in the Italian Alps playing host to the family . Very early in the story as Monet is settling in with the children, Marcu realizes that he can't marry someone else and breaks off that relationship before anything really happens with him and Monet. Once he is free, they share some sensual love scenes. Monet isn't afraid to challenge Marcu over his lack of a relationship with his children (not because he doesn't want to be there for them, but because he doesn't know how) and helps him bond with them. She's a strong, passionate woman and that comes through clearly.
Eventually Marcu thinks that marriage to Monet is the perfect answer to his problems but Monet will not accept anything less than love and she rejects him, leaving him to figure out how to fix his mistakes.. His grand gesture is quite satisfying and they get a sweet happy ending complete with a lovely epilogue. If you're looking for a delightful Christmas romance to add to your collection I highly recommend this one.
Book Info:

Publication: Nov 19, 2019 | Harlequin Presents |
December in the brooding Sicilian's castle…
Spending the holidays with the man who broke her heart is Monet's worst nightmare. But when commanding Marcu's children urgently need a nanny, she can't refuse. Landing back in his aristocratic world, where free-spirited Monet never belonged, is bittersweet torture…
Marcu doesn't anticipate his overly ordered life being disrupted by the enchanting woman Monet's become. Duty has always dictated his actions, making Monet, with her infamous family history, strictly forbidden. But when their long-simmering passion burns intensely enough to melt the snow, will Marcu finally claim his Christmas Cinderella…?