Cinderella and the Vicomte by Jessica Gilmore: Although Clemence Beaumont grew up in a small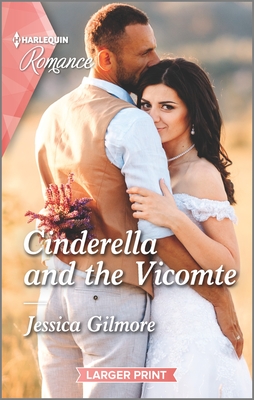 town in Cornwall, she has known for many years that she is the illegitimate daughter of the King of Asturia. Her father has made sure her material needs were met. He even let his legitimate daughter Arrosa visit Clem in the summers when they were both younger.
Arrosa is worn out by the demands of the royal life and the pressure to marry Akil d'Ortiz who is both a royal and a politician. Akil is a nice enough man, but Arrosa doesn't want a marriage like her parents had which led to much more acrimony than love.
Clem and Arrosa make a deal like the "Prince and the Pauper" to swap lives for a while so Arrosa can rest in quiet Cornwall for a few weeks. Clem will go to Asturia. Only a few people will know her real identity and she will go out in public inside an official vehicle with a hat and sunglasses.
Unfortunately, soon after Clem arrives she comes across Akil who knows she isn't the real princess.
Clem finds Akil very handsome and charming and agrees to go on outings with him. Despite knowing Clem will have to go home someday soon, Akil and Clem can't help getting attached to each other. Will they have a short term fling or can they work out their own happy ever after.
The reader doesn't learn too much about Arrosa in this first of the duet. The focus is on Clem. She is a strong woman who had a strong mother. Clem is still reeling from the loss of her beloved mother. It is easy to see that beneath the organized and reserved exterior beats a heart that has both passion and pain from the lack of her father's attention.
Akil has been expected to follow the path his family has set for him. The author seems to show beneath these expectations, he fosters a bit of resistance. He certainly has a tender, romantic side when it comes to Clem.
The mixture of romance and family issues make for a book that is easy to read and enjoy. The fairy tale type setting is charming. All of us who love romance secretly want to be swept away from our everyday life.
I highly recommend this novel and look forward to the next in the duet.
Book Info:

Publication: April 26, 2022 | Harlequin Romance | The Princess Sister Swap #1
Find out what happens when an actress swaps places with her secret royal half sister and falls in love with an aristocrat in this enchanting first story in Jessica Gilmore's new duet, The Princess Sister Swap.
Being a stand-in princess was easy……Until she met the vicomte!
Secret half sisters Clem and Princess Arrosa have always wanted to walk in each other's shoes! So when Arrosa needs time out, it's the perfect chance. Posing as her sister seems simple for Clem—until Vicomte Akil d'Ortiz, Arrosa's friend and potential convenient suitor, arrives unannounced and immediately recognizes that she is not the princess. And suddenly the real connection Clem develops with Akil makes life truly complicated…