Claiming his Christmas Wife by Dani Collins  is a sensual romance for a couple whose whirlwind marriage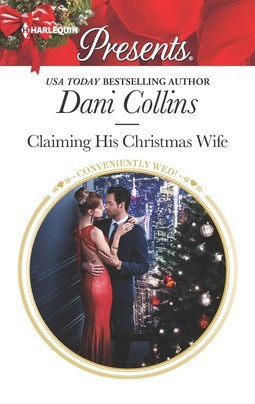 ended in heartbreak but get a second chance when fate throws them together once again.
When Imogen Gantry, a journalism student met up and coming architect Travis Sanders, the passion between them led to a quick marriage, and an even quicker and bitter divorce. Taking the money from their prenuptial agreement, Imogen sank it all into trying to keep her father's publishing business afloat to no avail. Four years later, she's collapsed on the street and the papers in her purse, including an old copy of her marriage certificate to Travis, lead to him coming to the hospital and discovering just how down on her luck she really is.
Imogen would rather she never see Travis again. After figuring out he'd only married her for sex and believing he had no intention of actually making their marriage work, she'd gone back to her cold and emotionally abusive father who'd since died, leaving her destitute. She's in debt, living in a shady part of town trying to make ends meet and the last thing she needs is a big hospital bill. Travis showing up in her life again might be her saving grace but it's a humiliation she really doesn't need. Still she isn't foolish and when Travis offers her a helping hand to get back on her feet, she reluctantly accepts. The paparazzi has found out about their secret marriage and to keep the gossip at bay, she's willing to pretend to be reconciling, at least for a few weeks until Christmas. Can they use this time to recapture what drew them together in the first place, and find a way to forgive each other and move on to a new and brighter future?
I enjoyed this story! Travis and Imogen have a lot of baggage from their marriage four years earlier to work through in order to have a second chance at a happy ever after. They both made mistakes, but the biggest one was getting married too quickly without actually getting to know each other. It made it easy for them to blame the other when things fell apart. Imogen never told Travis how bad things were at home with her father, having lost her mother and sister at a young age and living with a man who hated her. He'd assumed she'd married him just to fleece him of some money when the truth was he'd offered her a way out of her dismal life. When she realized he had no intention of actually committing to her, she figured there was no point in sticking around.
Her desperate circumstances now are such that she can't afford to refuse Travis's help, but it also gives them the time they need to rediscover the passion that drew them together. Sex was never a problem and they share some steamy love scenes. But for Travis to open his heart to Imogen he'll have to admit that his feelings about marriage and fidelity are linked to his own parents' experience and that he never gave Imogen a fair chance. They still have some rough patches but as Imogen regains her self esteem and sense of independence she's able to share her feelings with Travis and expect nothing less than love in return. They eventually get their happy ending, and a delightful epilogue too. If you enjoy damsel in distress trope stories and second chances, this one should be on your shelf!

Book Info:

Publication: Nov 20, 2018 | Harlequin Presents | Conveniently Wed
It's a convenient Christmas arrangement…
Until he wants her—forever!
After their secret marriage ended in heartbreak, billionaire Travis Sanders never wanted to see Imogen again. Yet when Imogen faints in the cold New York snow, Travis is called to her very public rescue! To avoid a media scandal, they must agree to a temporary reconciliation—at least until Christmas. But with their intense heat still burning, Travis is tempted to reclaim his wife—for good!