In Claiming his Pregnant Princess (Italian Royals #2) by Annie O'Neil, Princess Bea di Jesolo and Dr. Jamie Coutts were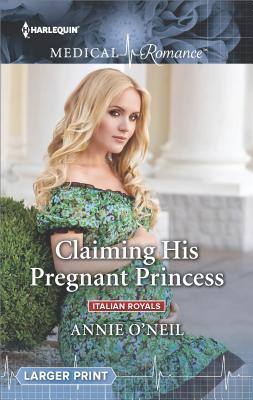 romantically involved and heading for forever after until Bea decided to put her duty as a princess before her own happiness. Now though, she's back in Jamie's life and working alongside him. Can Bea earn Jamie's forgiveness, so they can have a second shot at happy ever after?
She met his gaze as she finished scanning his uniform. "Since when do pediatricians wear high-octane rescue gear? I thought life in a children's ward was all the excitement you needed?"
"Snide comments were never your thing."
"Pushing boundaries was never yours."
Having loved Tempted by a Bridesmaid, the first book of this duet, I couldn't wait to read this story, especially because of what Bea went through in the first book. Did she run or face the consequences of what happened on the day of her wedding? How did her parents handle her decision? However, it was the way this story started that drew me into this story immediately, as Bea is doing everything she can to keep her identity hidden, and it doesn't help that even one person (Jamie) knows who she truly is.
As for the dialogue, it was intense due to the main characters back stories, the history between Bea and Jamie, and everything these two go through on their journey to happy ever after. Such as Jamie needing to come to terms with her pregnancy, whether Jamie can forgive Bea for what she did in the past and the medical emergencies that prove how good these two are at their jobs and how well they work together.
Both the main characters were wonderful due to their back stories and their growing relationship. The heroine choosing family obligation over love was a big mistake on her part, and it's understandable why Jamie is so hostile towards the heroine. Furthermore, Bea is strong and brave and I liked how determined she was to make things right with the man she still loves. Certainly, she made the wrong decision with what she did to Jamie in the past, but it's understandable why she did what she did. She's always wanted her parents approval and marrying someone they approved of was her way of earning that. What do her parents think of her after what happened with her ex-fiancé? What will her parents think of Jamie if they ever get the chance to meet him? While the hero, I felt sorry for him because it was palpable how much these two loved each other, and yet, Bea choosing another man over him left him gutted. However, I liked how he handles Bea being back in his life. It's not easy to forget what the heroine did, but at least he can begin to heal and hopefully forgive.
Overall, Ms O'Neil has penned a great second book for her Italian Royals duet where the chemistry was strong, the obstacles these two faced were worth overcoming, and the ending had me concerned for the heroine, but made me so happy for this couple because they definitely deserved their second chance at forever after. I would recommend Claiming her Pregnant Princess by Ms. O'Neil, if you enjoy second chance romances or books by authors Amy Ruttan, Tina Beckett or Amalie Berlin.

Book Info:

Publication: July 8th, 2017 | Harlequin Medical | Italian Royals #2
"Hello, Beatrice."
Face-to-face with the man she'd loved and lost two years ago, Dr. (and Princess) Bea di Jesolo knows she has no right to forgiveness, but she hopes they can call a truce for the sake of their patients.
Pediatrician Jamie Coutts had always seen the woman beneath the royal fanfare that surrounded Bea: at heart, she was more surgical gown than ball gown. But loving her had cost him once. Could he risk his heart again—especially when he discovers her secret?