In Close To Her Heart (Carrigans of Circle C #3) by C.J. Carmichael, Dani has always been the responsible one. After being the caretaker for her sisters after her mother died, and not being close to her father, she moved from Marietta, Montana to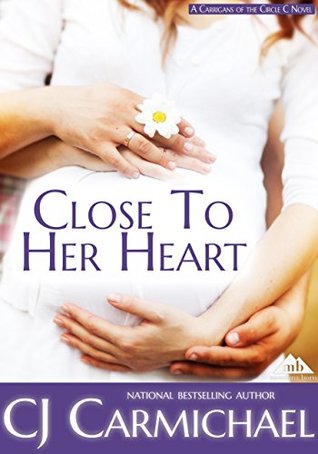 Seattle. She is happy with her life there. Working in the psychology department of the University of Washington keeps her busy, she has a couple of close friends, and a lover. Unfortunately her lover Adrian is also her department head…and that is part of his excuse to keep their relationship a secret.
When Dani ends up pregnant, she expects a lot more from Adrian than what she gets. She is still hopeful though and wants way more from him than he is willing to give…even if part of her is hurt by his reaction. For numerous reasons, Dani chooses to tell very few about her pregnancy. Her two best friends and her niece, but no one else in her family. As Dani's pregnancy progresses, she finds help and support from her friend Eliot. As the distance between Dani and Adrian increases, she finds herself inexplicably attracted to Eliot. At this time in her life though, Dani does not feel the attraction can be real…or lasting. Eliot has always been secretly attracted to Dani, and the pregnancy is no deterrent. Caring and supportive, Eliot can't stand to see how Dani is being treated by the father of her child.
Brave but scared, Dani will not ask for help, but that won't stop Eliot, who wants to take a chance with Dani and her baby. As Dani's life as she knows it is about to change, will she take the chance on who has been in front of her the whole time?
Close To Her Heart has a dynamic plot, filled with conflict, hope, and relationships. Dani was a bit hard to understand at times. She is supposed to be so smart, but she lets herself be treated very poorly and I just could not figure out why. We never really found out what was so great about Adrian that she wanted to be with him so badly. She wants to be very independent and do everything on her own, but sometimes asking for help is a character strength…and I hoped that Dani could get there. I felt sorry for her actually, putting up with Adrian and being kept a secret. Dani goes through much more than this in Close To Her Heart though, and she does the best she can to cope with what comes her way. In many ways Dani is a brave heroine, I just could not understand some of her actions. Eliot is a caring, good friend who wants more with Dani. Even if she's not ready for more, he is there for her. He is patient and could be a strong shoulder for her to lean on if she let herself.
I would consider Adrian more of a secondary character in Close To Her Heart, even with his involvement with Dani we don't see a lot of him or know a lot about him to make him remotely likable. Another good friend is a strong secondary character, and she has issues of her own! Dani's family is really on the periphery even though she's supposed to be close to her sisters. C.J. brings them in more towards the end of Close To Her Heart, and I liked how this was done.
Close To Her Heart is emotional, with a lot going on, and C. J. writes an really good story even if I wasn't enthralled with Dani. The plot line is very intriguing, waiting to see how things would work as Dani struggles to cope with everything going on. Intense at times with good flow and easy to read, I'd recommend Close To Her Heart to women's fiction readers who like a touch of romance. Part of a series, Close To Her Heart can be read as a stand alone.
Book Info:

Published September 23rd 2014 by Tule Publishing Group LLC | (Carrigans of Circle C #3)
Dani Carrigan, the academic of the Carrigan family, has always relied on logic when making important life decisions. But when she discovers she's pregnant—and that there's a chance her baby may be born "not perfect"—deciding what to do isn't so easy.
It would help if the father, Adrian Carlson, department head at the University of Washington in Seattle where they both work, would pop the question. But the widower seems more interested in protecting his six-year-old daughter than committing to his new relationship with Dani.
The last time Dani felt so alone and scared was when she was sixteen and her mother died in an accident at their family ranch, leaving Dani to raise her younger sisters with precious little help from her distant and disapproving father. She felt so inadequate then. But is she any more prepared to be a mother now?
Support comes from an unlikely source. Dani always saw her next-door neighbour and friend, divorce attorney Eliot Gilmore, as a charming, handsome, playboy-type. But with each challenge Dani faces, from pregnancy, to delivery and beyond—Eliot reveals himself to be more of a man than she ever guessed. Is it possible that in all the years she's known him, Eliot hasn't been playing the field—but waiting for her?