In Consumed (Firefighters #1) by J.R. Ward, New Brunswick, Massachusetts, firefighter Anne Ashburn is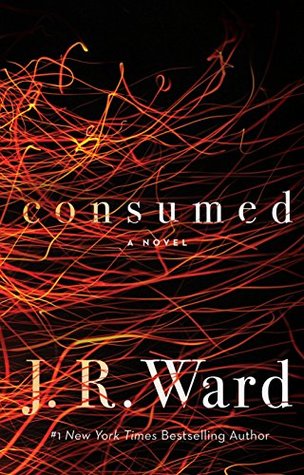 an adrenaline junkie who loves her job. Almost as much as she craves her coworker Danny. When an out of control warehouse fire changes her life forever, leaving both Anne and Danny with difficult choices to make, she starts over again. This time as a fire investigator. Still craving the rush of battling a blaze, she soon finds herself immersed in a dangerous case with several local warehouses all having burned to the ground. And the more Anne picks apart the facts, the more she's convinced there's a link to a prominent businessman. But her investigating puts her directly in harm's way as she begins receiving threats and having her property damaged. Paired with her ongoing battle over her feelings for Danny, it leaves Anne spinning, trying to make sense of this new life she had no choice but to make.
'The truth was, he mattered too much to her just like she mattered too much to him. And so this collision was a recipe for disaster that was somehow totally inevitable.'
Danny has overcome a lot of things in his life, but what he and Anne went through in the warehouse fire was a life changer. He might have healed physically, but the emotional scars are getting to be too much for him to handle on his own. Which has him taking bigger and more potentially life-threatening risks on the job. Then Danny finds out about Anne's new case and specifically, the danger she is facing down. Seeing how she can stay positive in the face of so many changes helps him begin to gain control over his actions again. But the one thing Danny longs for, a life with Anne, might still be a tougher fight than he had hoped for. Good thing he's used to fighting for what he wants. Because he's not going to give up on what they could have together.
'Danny wondered whether he was doing the right thing. But if you had to have something to live for, it might as well be love, right?'
What an incredible beginning to J.R. Ward's new Firefighters series! Consumed was the perfect name for this book, because from page one I was totally consumed as I sorted through the lies and betrayals, the family secrets, and was thrilled with the sweet romance that was hotter than a four-alarm fire.
"Kiss me," she said.
He would have given her the world. That all she wanted was something he would have begged her for was more than he deserved.
Possible Trigger Warning: Explicit details of fire scenes, including the victims, murder, and a job-related accident involving amputation.
Consumed had two things going for it right from the start: It was about firefighters–yes, please!; and it was written by J.R. Ward. How could it *not* be good, right? And oh my goodness, was this one stunning novel. There were multiple POVs that kept things really interesting, as well as being a good way to get to know the multi-layered characters easier. I'm hoping that based on how many firefighters we met here, that Ward has enough characters to carry this series for a while. And that storyline was so intense and fluid that I didn't see the final (sad) shocking surprise at the end until the last minute. Ward never shies away from the gritty, darker moments in her work, but for me where this was a contemporary story instead of fantasy or paranormal, those scenes were even more relatable–and gut-wrenching–as the thread of mystery was solved.
I fell in love with the cast of Consumed almost immediately. Particularly with how beautifully flawed they were. Anne and Danny were the true focus of this book, and I couldn't get enough of their amazing connection together. There were sparks galore. But it was the underlying tenderness, how they genuinely cared about each other–and the decisions they made based on their concern for each other–that wowed me. Danny was the quintessential Irish guy from the Boston area and I got such a kick out of him. He was larger than life, heroic, but also emotionally damaged to the point of slipping off the rails. Danny would literally do *anything* for Anne, which was ridiculously sigh-worthy and something he proved over and over. And Anne was such a badass! I *adored* her so much with her strength, both mentally and physically, her kind heart, and her ability to change as her life took a different turn than intended.
J.R. Ward was absolutely on-point with Consumed, an amazing, dazzling new novel that I think fans will love–and that will definitely be keeper shelf material. I can't recommend it highly enough.
Book Info:

Publication: Published October 2nd 2018 | Gallery Books | Firefighters #1
From the #1 New York Times bestselling author of the popular Black Dagger Brotherhood series comes a brand-new novel about arson investigator, Ann Ashburn, who is consumed by her troubled past, her family's scorched legacy, and her current case: chasing a deadly killer.
Anne Ashburn is a woman consumed…
By her bitter family legacy, by her scorched career as a firefighter, by her obsession with department bad-boy Danny McGuire, and by a new case that pits her against a fiery killer.
Strong-willed Anne was fearless and loved the thrill of fighting fires, pushing herself to be the best. But when one risky decision at a warehouse fire changes her life forever, Anne must reinvent not only her job, but her whole self.
Shattered and demoralized, Anne finds her new career as an arson investigator a pale substitute for the adrenaline-fueled life she left behind. She doesn't believe she will ever feel that same all-consuming passion for her job again–until she encounters a string of suspicious fires setting her beloved city ablaze.
Danny McGuire is a premiere fireman, best in the county, but in the midst of a personal meltdown. Danny is taking risks like never before and seems to have a death wish until he teams up with Anne to find the fire starter. But Danny may be more than a distraction, and as Anne narrows in on her target, the arsonist begins to target her.
From the creator of the bestselling Black Dagger Brotherhood, get ready for a new band of brothers. And a firestorm . . .