Deep Down (The OGs #1) by Elle Aycart is a captivating erotic romance that will keep you glued to your ereader, even when a new episode of your favorite TV show is about to begin. I could not put this book down from the moment I completed the first page and when it ended, I had a serious book hangover.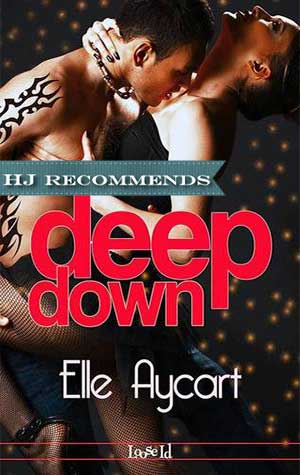 Kyra Brims and Mike Haddican grew up together in the same small town of Alden. Mike was always in love with Kyra and when she finally was allowed to date, he scooped her up and made her his. Kyra had no objections, because she felt the same way and could not wait to be Mike's girlfriend. Even though they were young, they knew their feelings for each each other were real and powerful.
Although they were deeply in love, Kyra needed to spread her wings and explore her amazing modern dancing talents. She ended up being cast as the lead dancer on a cruise ship, which evolved into the choreographer and lead dancer for a top pop artist, and as a resident dancer on the reality TV show, Shake Your Booty. A year into her career, she got romantically involved with Drake, the Director of Security on the cruise ship and became pregnant. They got married, and a few months later, he left her for a life at sea and the chance to make it big as an illegal drug importer. In order to ensure she had custody of her daughter Sam, she gave her ex everything with the exception of the shirt off her back.
While all this was going on, Mike was living his busy life, running his family's gym and teaching karate. Due to his karate expertise, he was able to draw in many clients. Kyra's leaving left a massive hole in his heart and no matter what he did or how many women he slept with, he could not get over her. His family provided a tremendous amount of support when Kyra left him and even more so when she returned to attend her foster father's funeral with new baby and husband in tow.
Mike and Kyra never stopped thinking about each each while they were living separate lives. Now seven years later, with no place else to go, Kyra moves back to Alden with Sam and begins a new life. Mike's father offers her a job as an aerobics instructor and a new normal begins once again. Her notoriety increases the gym's business tremendously, and slowly but surely she is putting her life back together. Mike is always around, causing her heart to break over and over. Luckily, Mike's wise old meddling grandma is able to see that they belong together.
Deep Down by Elle Aycart truly defines the erotic romance genre. The story is hot and emotionally charged all at the same time. This is a well-written, passionate scorcher with a refreshingly original plot. Mike is a true alpha male and the heat he creates in the bedroom left me craving for more. At the same time, he is able to be sensitive and a loving surrogate father to Sam.
Ms. Aycart can truly craft sex scenes that are descriptive and hot, however, if you are not a fan of sex during a women's menstrual cycle or anal sex, consider yourself forewarned. I actually cringed a little.
This is book one of three. The subplot of this terrifically hot series are the meddlesome grandmas that insert themselves into the lives of their grandchildren. Their antics are absolutely hysterical and I had many laugh out loud moments throughout the entire story. Another winner from Elle Aycart that should not be missed!
Book Info:

Published February 11th 2014 by Loose Id
Mike Haddican is a proud small-town gym owner, a renowned karate instructor, and all-around good guy. He's never needed much to be happy: his family, his friends, his girl. Especially his girl. But when Kyra left him seven years ago to chase her dreams, she all but destroyed him.
Contemporary dancer Kyra Brims made it big, but it cost her dearly. With her life and career in shambles, she doesn't need a do-over, she needs a friggin' miracle. Injured, broke, and out of options after going through hell, she's come back to Alden, the town she swore she'd never return to and home of Mike Haddican, the man who ripped her soul to pieces, to lick her wounds and recover.
Forgetting and letting go proved impossible when they were worlds apart; now that they're stuck together they don't stand a chance, especially with Mike's grandma and her partners in crime plotting, meddling and refusing to give up on them.
As the passion that never died burns out of control, so do old hurts and unresolved issues. Both have reasons to be angry and feel betrayed, but now that they're older, are they wise enough to make things work?