Dirty Trick by Christine Bell is the first book in the Perfectly Matched series, and my first Entangled Brazen book. I read and fell in love with the Entangled Bliss line, but I'm not usually into the super sexy, sexy-time overload books, and with a title like Dirty Trick, this one promised to be far out of my comfort zone. But it was also based on one of my favorite romantic tropes, friends to lovers, and a great story is a great story, so I loosened my granny panties a bit and dug in.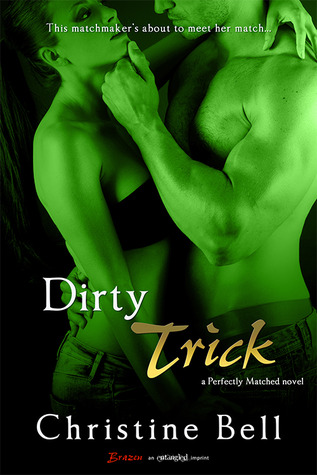 Grace Love is a matchmaker who can pick a match for anyone with her "sixth sense tingle." She and best friend Serena have finally gotten their fledgling business, Love Will Find a Way, some real exposure, and they plan to capitalize on it at an annual Halloween party thrown by a famous bachelor they hope will be their most influential client to date. While her business is booming, Grace's love life is fizzling. She hasn't done a great job of picking men in the past, and the only man who gets her tingling is Trick Matthews.
Patrick "Trick" Matthews is Grace's neighbor of nearly two years. A former playboy, he has fallen for Grace in a way he never has before. He's stopped his sleepovers with a revolving door of women and tries to convince Grace that he's a changed man, but he was friend zoned by Grace a long time ago. Trick knows they could be so much more. They already function as a couple without the sex, walking their dogs together, watching movies on the couch with her cold feet tucked under his butt. But how does he get her to see him as more than a friend?
Trick wants to accompany Grace to the Halloween party thrown by a potential client, but she turns him down. That's when he comes up with a brilliant plan: he'll go to the party in disguise, charm Grace, and show her how good they could be together. But the plan gets out of hand, and now Grace is really into this mystery man. How can he find a way to reveal his identity and his feelings for her without losing her trust forever?
I loved Dirty Trick! I didn't think that I would like Grace and Trick so much, but the characters were so well developed and so perfect for each other. I love how Trick cared about her feelings and encouraged and supported her, even when she said and did the silliest things (warning: slightly naughty language ahead):
"Maybe he even wanted a little dirty talk…Might as well let it rip. 'Yeah. I want your c-' It stuck in her throat and she tried again. 'I want your big c-'… 'I want your cock…a doodly doo..in-inside my p-lady area…business,' she expelled in a rush. Oh God, no. What was that…He chucked her chin until she looked up at him, tears of shame clouding her vision. 'I'm not sure what you're trying to do, please yourself or me, but either way, I appreciate the try. And,' he leaned in low, tipping his hips against hers until she felt the thick evidence of his want, "I concur with the sentiment. There is nothing I want more than to be inside your lady area business.'"
I liked how Ms. Bell developed the conflict and obstacles in their path to a loving relationship, and I felt that she did a great job of helping Trick reveal his feelings for Grace. The supporting characters were fun as well, and I hope that we get to read Serena's story next. Then the big fish client, Chaz's story next. I really liked how she developed the background characters and used them as more than a catalyst for this even or that event.
One thing I didn't like about Dirty Trick was that she didn't know it was him. Come on! I know why she didn't know, but this is her best friend we're talking about. At some point she had to know. But this added a frustration that made me like the book more. I was shaking my kindle going "hello! How can you not see this?!" I love when a book engages me. The cursing was a bit of overkill, but it was usually presented in realistic dialogue. The naughty bits are a little racy for my tastes in this one, but I muddled through because Ms. Bell has a great story here that just happens to have naughty bits, and not naughty bits that happen to have a little story mixed in.
The short version: Dirty Trick by Christine Bells combines likeable characters you actually want to see together with a complicated situation that takes a little ingenuity and a lot of risks to overcome. The supporting characters are people rather than plot pieces, and any breath holding done while reading the naughty bits can be exhaled in a happily ever after sigh in the end. I would recommend this book to anyone who enjoys a friends to lovers romance with lots of spice, a little deception, and the potential for a great series.
Book Info:

 HJ Top Pick
Published September 23rd 2013 by Entangled: Brazen
Grace Love is lousy with men. She can spot a match for someone else a mile away, and her balls-on instincts are why her matchmaking business is thriving, but finding her own Prince Charming? The only guy who makes her sixth sense tingle is her playboy best friend, Trick, and no way is she risking their friendship, no matter how hot she knows the sex will be.
SWAT officer Trick Matthews is a patient guy, but Grace's inability to see what's right in front of her is grinding on his last nerve. Yeah, he blew his shot at breaking out of the friend zone when he tamped down the urge to lick her from head to toe the day they met, but he's got a plan that'll change her mind. Incognito at Salem's hottest Halloween party, he'll show her exactly how good they could be…and that he's the man for her.