In Do Opposites Attract? By Kathryn Freeman, Brianna Worthington has everything, beauty, privilege and a very big trust fund. But even though everything looks perfect on the outside she is missing something. She cannot find the man for her and feels like she is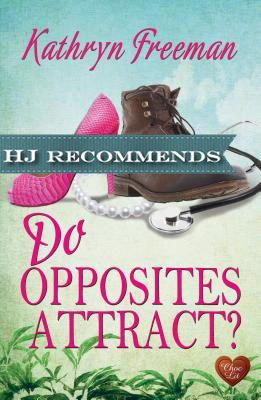 missing something, no matter how much the men in her social circles try they cannot retain her attention for long. She needs a change in her life, so when she is invited to see how her mother's charity, Medic SOS works, she takes the next flight for South America.
Mitch McBride is the chief medical officer for Medic SOS and has a very busy schedule. So when he is notified that they will have the patron's daughter come to South America he is not happy, he doesn't have the time to babysit nor be showing her around when there are people that need his medical expertise.
Mitch and Brianna are complete opposites; she is high maintenance with a huge trust fund, while he is just a doctor that travels around the world helping others for a low wage. So you just know that when Brianna gets off the plane things are not going to be easy for either of them. Beginning with Mitch making her carry her own box to the jeep when she expected him to carry things for her and get her door like the men in her social circle do.
Brianna will get an up close and personal look of what life means to others that don't have the money and privileges she does. She will see poverty and suffering that people go through as disasters go through their lives, but she will also see how much more they appreciate life instead of the material things lost like everyone she knows would. Making her see things from a different perspective and want to find ways to help those people as well as the underfunded Medic SOS team that do their best to help them.
While Mitch will learn that Brianna is not all fluff and that she does care more than he gave her credit for. But he cannot risk his job for something that could go no further since they are from very different social circles. But how can he stay away from the only woman that has tempted him in a very long time? And knowing that she wants him too definitely doesn't help.
Even as they fight their attraction and then embark on a fling, how will they be able to keep moving forward without wanting to continue it? Things will not be easy, but until they get past their issues, Mitch and Brianna will not be able to have the happiness they only found together.
If you want a deep and emotional read don't miss Do Opposites Attract? By Kathryn Freeman.
Book Info:

Published July 15th 2014 by Choc Lit
There's no such thing as a class divide – until you're on separate sides.
Brianna Worthington has beauty, privilege and a very healthy trust fund. The only hardship she's ever witnessed has been on the television. Yet when she's invited to see how her mother's charity, Medic SOS, is dealing with the aftermath of a tornado in South America, even Brianna is surprised when she accepts.
Mitch McBride, Chief Medical Officer, doesn't need the patron's daughter disrupting his work. He's from the wrong side of the tracks and has led life on the edge, but he's not about to risk losing his job for a pretty face.
Poles apart, dynamite together, but can Brianna and Mitch ever bridge the gap separating them?