In Ever After at Sweetheart Ranch (Valentine Valley #6) by Emma Cane, Cowboy Will Sweet has never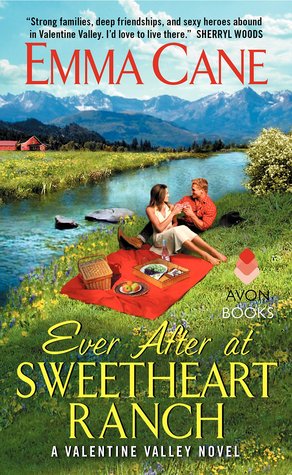 wanted to do anything other than be a rancher, carrying on the family tradition. He left behind thoughts of love and family after his teenage girlfriend died in a car accident. Now Will is known more as a ladies man who only dates casually. Then something shifts when he's near his longtime best friend's younger sister Lyndsay de Luca. He knows she's looking for more than he can give, but Will can't stop from getting close to the sultry school teacher. If anyone can change his mind about love, it will be Lyndsay.
'Being with her made him want a closeness that guilt hadn't let him feel in years. Something had broken inside him long ago, leaving him no heart left to give. He didn't deserve a woman like her.'
Lyndsay should be thrilled to have her dream of becoming a writer finally come true, with her first romance novel being published this summer. But being a small town teacher means she has to worry about what the student's parents will think. Lyndsay also wonders what people will say when they realize, as she only recently did, that her hero is loosely based on hunky cowboy Will. The guy she had a crush on years ago. Things get complicated when she and Will decide to date with no long term plans and she foolishly falls in love. Will she get a HEA like her novel's characters, or will she crash and burn?
"You'd rather live with the ghost of a dead girl than take a chance on a real live one. We're not all fragile dolls. We make stupid decisions–we're human. Don't let that deny us the chance at real happiness."
As the name implies, Ever After at Sweetheart Ranch was a sweet happily-ever-after for two friends who were completely perfect for each other. This was a true testament to how wonderfully things can work out when starting a relationship with an already strong foundation of friendship.
There were a lot of personal emotional battles fought in this novel, not only by our protagonists, which author Emma Cane handled so well. I love that the Valentine Valley series is more of a community story, bringing the families and townsfolk into the plot. Here we had Lyndsay and Will struggling with their own insecurities and/or guilt issues, plus those of Will's mother, and even the widows and Mrs. Sweet. For me, whenever a small town based story can involve the people surrounding the protagonists, there is a much more cohesive feel to the plotline. That was definitely the case with this novel.
I really fell for both Lyndsay and Will. She was so sweet and smart, kind of the classic good girl, while Will was the charming cowboy, the ladies man. They made a fun couple with their easy bantering and off the charts chemistry. Lyndsay being a new author added a lot of entertainment, especially when she had to fess up about Will sort of being the role model for her hero. And it felt pretty realistic that Lyndsay figured out how much guilt Will was holding on to about his ex-girlfriend's death, where she was so good at reading people. It broke my heart to see him shut everyone out. He was such a caring guy. But it all ended very happily and left me grinning, thankfully.
Book six in the Valentine Valley series can easily be read as a standalone. But I think you'll want to check out the rest of it and spend more time with the compassionate and fun-loving people in this small town.
Book Info:

Published April 28th 2015 by Avon Books | (Valentine Valley #6)
Emma Cane's Valentine Valley series returns, as a teacher and her cowboy crush kindle sparks—and something more—in the town that lives up to its name…
The only thing hotter than a cowboy…
Math teacher Lyndsay De Luca never surprised anyone—least of all herself—until this summer. First, she secretly published her debut romance novel. Then, she started dating Will Sweet, the cowboy of her dreams. And now, Lyndsay's scrambling to hide the juiciest tidbit of all: that the hazel-eyed hero of her steamy fiction is the same guy whose kisses have become her mind-blowing reality.
…Is a cowboy in love.
Ever since Will's high-school sweetheart died in a tragic accident, he hasn't been able to commit to a long-term relationship. Lyndsay is the first woman in years who's been able to catch—and keep—his attention. When they team up to teach Valentine's teens about ranch life, Will discovers it's not just her sexy-as-hell smile that has him hooked. Will she be the one to finally break down the walls around his guarded heart?