Eye Candy by Jessica Lemmon: Vince is co-VP at the marketing firm with Jackie and they have really bonded since both of them went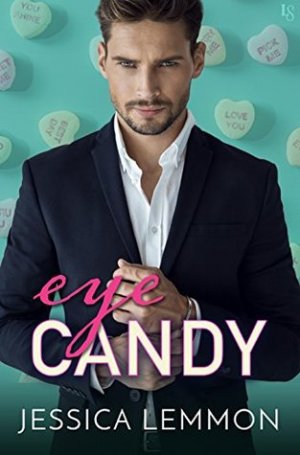 through divorces. They have really helped each other deal with the pain of their marriages ending and trying to move on. Vince is smart, confident, sexy, and more spontaneous of the two whereas Jackie is a planner and prone to overthinking things. They are pretty comfortably sharing the VP role while playing to each other's strengths.
Jackie lives for that special time every day when her deliciously sexy neighbor J.T. just so happens to go for his run, while shirtless, past her office window. It's the highlight of her day and he may just so happen to fuel her fantasies. After being burned by her ex-husband, she's not convinced that she's ready to wade back into the dating pool again until her best friend Vince offers to coach her to finally snag a date with her hunky neighbor.
The only problem is that Vince has finally gotten through the fog from his divorce and now sees Jackie as a very desirable woman. He's tempted to cross the line from best friends and co-workers into lovers, but she's hung up on the runner. Jackie doesn't yet entirely see Vince as an option until he maneuvers her into a date.
"Because I have to make a plan. A chart. A spreadsheet. Download an app. Find my workout clothes."
"I didn't agree to jog so we could lose our Saturday-night movie fest, Butler. I agreed because you are harebrained and slightly misguided, but as your friend I support your Bugs Bunny-like schemes."
Jackie and Vince have a great relationship. They have an ease and comfort from their long-standing friendship in addition to an entertaining banter. When they finally give in to their chemistry, both are left reeling and wondering what is next. Navigating those waters in a changing relationship is both easier and more difficult than expected, especially with J.T. and their baggage hanging around.
"Fine. I'm avoiding you. I don't know what to do now."
"As your coach, I have advice."
"I'm sure you do," I mumble.
"Go out with me."
Eye Candy is a humorous and sexy friends to lovers and workplace romance. Jessica Lemmon entertained with the dialogue and interactions among a strong cast of characters. Ms. Lemmon created a nice balance of friendship and romance with good character development. Fans of Liora Blake and Mari Madison will enjoy Eye Candy.

Book Info:

Publication: July 25th 2017 | LoveSwept | Real Love #1
Jacqueline: As an adult woman–and the vice president of a marketing firm–I shouldn't be waiting by my office window to ogle the mystery man who jogs by every morning at 11:45. Sure, he's a gorgeous, perfect specimen of the human race, but I can't bring myself to hit on a total stranger. However, my best friend-slash-colleague Vince Carson thinks I should do more than talk to the guy. In fact, he's borderline obsessive about "getting me laid." (His words.) But the more time we spend together, the more it's clear: The one I'm falling for is Vince.
Vince: Jackie Butler's got it bad for some pompous, over-pumped A-hole who struts his stuff past her window. That doesn't bother me. I know she deserves nice things. What does bother me is that she friend-zoned me big-time last year, so I can't ask her out myself. But what if I set her up with Mr. Steroids? Then, when he breaks her heart, I can swoop in and save her like the nice guy I am. Everything's going according to plan . . . until we share a ridiculously epic kiss. And suddenly anything is possible.