Facing Fire by HelenKay Dimon is the third story in the sexy romantic suspense Bad Boys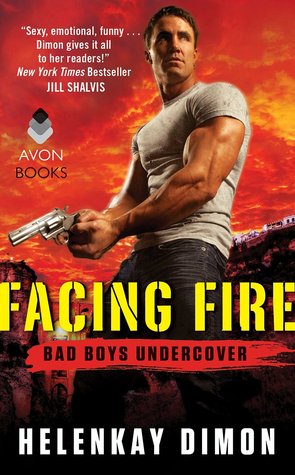 Undercover series, an exciting, nail biting story that kept me on edge from beginning to end.
The Alliance, an undercover group made up of former MI6 and CIA operatives is under threat, this time from an old nemesis, Benton, a man they thought they'd killed but who turns up still very much alive. He's on a personal vendetta, to destroy each of the operatives one by one by threatening someone dear to them. But while Josiah and his crew are hunting him down, so is someone else, a woman whose mother died at the hands of this evil man. Sutton's investigation into Benton turns up some of his files, and her subsequent delving into what she finds leads the Alliance right to her. It's a game of cat and mouse, trust and deceit as Sutton and Josiah find that the sexual chemistry between them won't be denied. In a world of strange bedfellows, theirs might just be the sexiest pairing, but one that could get them killed.
Ms. Dimon is masterful at creating fictitious worlds that rock both the suspense and the sexy edge looked for by readers in the romantic suspense genre. Her characters are strong, dependable,loyal, yet conflicted, with all too human flaws. Josiah definitely fits that description. As a leader on the team, he's ruthless and never afraid to do what it takes to get the job done. When he goes after Sutton, it's with the intent of finding out exactly what she's up to – he doesn't trust her, and she doesn't do anything to clear herself in his eyes, keeping her own counsel and not willing to reveal why she's after the same man he is. Soon enough though, Josiah's actions towards her show that he isn't a threat (even though he isn't sure of the same) and bit by bit they start to reveal more personal details to each other. I loved Sutton's strength, her unrelenting willingness to pursue her mother's killer on her own, and her ability to face her fears (of heights, for example) if it gets her closer to the truth. When Josiah and Sutton end up giving in to their attraction, their scenes are smoking hot! But beyond the sex, in the aftermath they become adept at comforting each other too, and it's this combination that draws them closer together.
While Sutton and Josiah are getting emotionally attached, Benton's thirst for revenge is ongoing. We get to see the story from three points of view – Sutton, Josiah and Benton, which gives the story a great well rounded view and adds to the suspense level in knowing Benton's thoughts and plans. There is some violence in the story, as expected, and lots of twists and turns (and definitely events I didn't see coming). This story is my favourite so far in the series, and I'm looking forward to where it's headed next!
Book Info:

Publication: Sep 29 2015 | Avon | Bad Boys Undercover #3
When his uncle is brutally murdered, Josiah King knows that business just got personal. His uncle's ties to the Alliance can mean only one thing: Josiah and his black ops team are targets, along with everyone they love. Primed for vengeance, Josiah is determined to unravel the plot–until long-legged redhead Sutton Dahl becomes a dangerous distraction.
Sutton is very good at uncovering other people's secrets—and protecting her own. When Josiah bursts into her life she's torn between pushing him away and asking for his help. Mysterious, strong, and much too sexy, he's a puzzle she longs to solve, and a temptation she can't ignore.
Thrown together in the face of Alliance's most lethal threat, Josiah and Sutton become unlikely partners, fighting for their lives even as the attraction between them flares into real passion. Torn between his team and the woman who means everything to him, Josiah will risk it all to save Sutton, even if that decision is his last.