In Falling For Her Soldier: A Perfect Kisses Novel by Ophelia London, Ellie Bell has twenty-four days left to her self-imposed man-less year. While her friend would like her to call it good enough and start dating again, Ellie needs to meet her set goal. Ever since the death of her mother and the loss of her career she gave up on her goal-oriented life. But after so many bad men choices, horrible dates and guys she wishes she would not have dated at all, she needs to set her life in order again.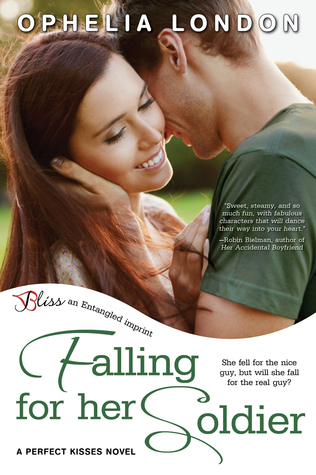 And so she will not give in and let go of her goal until she meets it. But if there were a guy that would tempt her to put her goal away, that would be Charlie, the soldier who emailed her when her brother was injured, kept her in the loop and kept her sane through such a hard time.
Charlie "Big Game Hunter" Johansson's last tour of duty changed him. Before he would go through women like crazy, but now he wants something more, not the fling one-night-stand he used to have all the time. Thanks to the emails he kept going with his best friend's sister, now he wants a real relationship, but he wants it with Ellie. Only problem is that you are not supposed to hit-on or date your friend's sisters, it was a man rule.
While Charlie is on leave, he decides to visit the Warrior Station, a center his best friend and many officers spend all their time in. But when he gets there he finds a beautiful woman on the phone, he thought that he was past his flirting ways, only she brought out the Joey Tribbiani with him asking her "how you doin" while she is on the phone with someone else. At first he thinks that she just didn't like him as much as he did as she doesn't respond and walks away. But once in the center he forgets about her and gets on to see his comrades and friends and find his best friend. Only once there he also finds out that the hottie in the parking lot is Ellie, his best friend's sister and unfortunately he was introduced as Hunter, and his reputation precedes him, something that may not help him woo Ellie.
Things will only get more interesting when the Warrior Station is at risk of closing it's doors because of the loss of one primary donation that covered the rent. So now Ellie and Hunter will do their best to organize an event that will bring in enough donations to keep it open for at least another year. The one thing that Hunter didn't expect was that when talking to Ellie he would zone out so much that he inadvertently volunteered to dance a tango with her as the main attraction of the event, and he doesn't know how to dance, but for Ellie he will try.
Well let's just say that this story is hot, and Bublé and Elvis will not sound or mean the same to you after you read their dance scenes and the thoughts that go through them both. The banter and fun scenes between Ellie and Hunter was great, I can honestly tell you that I was nervous about how finding out the truth about Charlie's identity would affect their relationship and what would happen next. I was sad to see the story end, but I loved that it ended with just the right touch of humor that you come to expect from Ellie and Charlie.
If you want a sweet, warm and fun story to read, don't miss Falling For Her Soldier by Ophelia London.
Book Info:

January 13th 2014 by Entangled: Bliss
She fell for the nice guy, but will she fall for the real guy?
Ex-ballerina Ellie Bell has twenty-four days left until her self-imposed man-less year is up. No more falling for the wrong kind of guy—charming, sexy, bad. Why can't she find someone sweet like Charlie Johansson, her soldier pen pal? His e-mails meant the world to her, and she can't stop thinking about him…until she meets Hunter, whose muscles and cocky smile threaten to have her relapsing.
Before Charlie "Big Game Hunter" Johansson's last tour of duty, he'd gone through women like crazy. But after connecting on a real, emotional level via letters with his best friend's sister, Charlie's ready for a relationship—with Ellie Bell. But then her brother introduces him as Hunter. Proving he's no longer a player by becoming Ellie's dance partner for an Army benefit seems like it could convince both siblings he's changed, but the harder he falls for Ellie, the harder it is to come clean. Can he convince her to fall for the real him before it's too late?