Fiancé in Name Only by Maureen Child: So scared of what anything other than the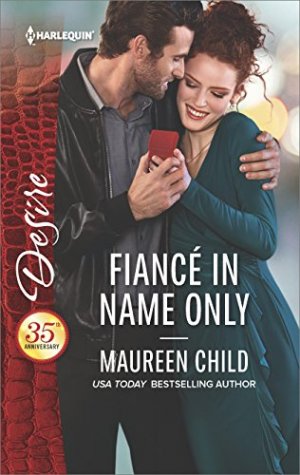 normal is when the outside starts to shake it up a bit the inside must follow suit, right?
Kelly Flynn was used to being alone, or at least as used to it as one could be. She was orphaned young and sent to live with her grandparents then her granddad died and then her husband. So no more, no reason to lose like that again. She was happy. She did many things and on the surface everything was great and there was no need for more.
Micah Hunter was famous, successful and happy, right? Except he was lonely sometimes, not that he would ever admit it, instead he just packed up for six months somewhere else. That was about the length it took him to write a book anyway so it was just his prerogative. One night stands was all he needed.
Something in Kelly reached Micah and once Micah touched Kelly, well there was no going back, but now with a tangled web would they ever be able to untangle and come back together? Or would this just be a passing fancy?
Wow! Ms. Child has managed to hit some serious notes and give her readers one of the best/strongest heroines that has come around lately. Her gift of words has given her readers one of the best presents with great characters that are both relatable and real. A sense of fall that really makes you want a cup of tea and a blanket. This is a tale sure to delight and heat you from the inside.

Book Info:

Publication: October 3rd 2017 | Harlequin Desire |
Make-believe romance has never felt so real! From USA TODAY bestselling author Maureen Child. Bestselling writer Micah Hunter lives a nomadic life. Temporarily settling in a small town for research is outside his comfort zone. Only his tantalizing landlady can lure him from the isolation of his rented mansion. Because Kelly Flynn stirs him as no woman ever has. And she needs his help. To placate her grandmother, Kelly asks Micah to pretend they're engaged. He relishes the chance to be with Kelly…until acting like they're in love begins to feel like more than an act!