First Comes Scandal: A Bridgertons Prequel by Julia Quinn is the fourth book in the Rokesbys series. It was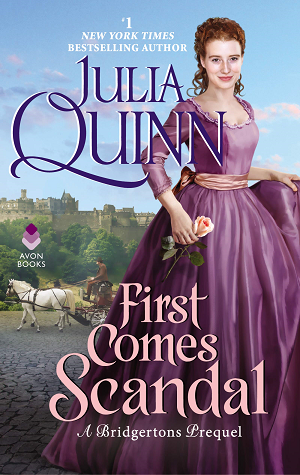 wonderful as a stand-alone and even though I haven't had a chance to read the entire series I'm sure the other books were fantastic!
The author is one of my favorites and I love how her stories flow so smoothly and she always has the most adorable couples. I always enjoy reading books based on large families and this author has a way of capturing the essence of large families and their dynamics. This book's troupe was a marriage of convenience between two friends that turns into love. It was enormous fun watching the attraction grow between Georgiana (Georgie) and Nicholas, especially since they had never viewed each other romantically. Their witty humor, fun banter, and the funny cat incidents kept me laughing and had my attention from the beginning to the end of the book.
Nicholas Rokesby was in Edinburgh finishing his medical studies when he received a note from his father requesting him to return home quickly. After traveling for over two weeks while worrying about the urgency, he was glad to finally be home. When he learned that Georgie had been kidnapped, he was concerned but when his father informed him that he needed to marry her he was shocked. They had practically grown up together since their parents were close friends and he had always thought of her as a sister. As a student, he didn't have the time for a wife, and he didn't want a loveless marriage. While trying to decide if he could be happy married to Georgie, he started to notice the woman she had become. He was shocked when Georgie refused his proposal.
Georgiana Bridgerton had been kidnapped by Freddie Oakes and her reputation was ruined even though it wasn't her fault. She was fiercely upset that he wasn't affected by the gossip and she was the one who was suffering when she hadn't done anything wrong. She was horrified when Nicholas asked her to marry him because she knew he had been ordered to by his father. She didn't want to marry someone who pitied her, and she instantly declined. Later she realized she should have considered it because they could potentially have a good marriage. She found herself admiring him and deciding to be brave, she asks if she can reconsider his proposal. After agreeing to a marriage between them, they had to rush since Nicholas needed to get back to school. On the long trip to Edinburgh, their attraction towards one another grows and love develops between them.
This was a fantastic book to read and provided a lot of amusement. It was paced perfectly and flowed smoothly from scene to scene. The characters were well developed and were perfect for each other. I loved seeing Nicholas and Georgie slowly grow to love one another and recognize they were meant to be together.
Book Info:

Publication: April 21st 2020 | Avon | A Bridgertons Prequel | Rokesbys series #4
She was given two choices…
Georgiana Bridgerton isn't against the idea of marriage. She'd just thought she'd have some say in the matter. But with her reputation hanging by a thread after she's abducted for her dowry, Georgie is given two options: live out her life as a spinster or marry the rogue who has ruined her life.
Enter Option #3
As the fourth son of an earl, Nicholas Rokesby is prepared to chart his own course. He has a life in Edinburgh, where he's close to completing his medical studies, and he has no time—or interest—to find a wife. But when he discovers that Georgie Bridgerton—his literal girl-next-door—is facing ruin, he knows what he must do.
A Marriage of Convenience
It might not have been the most romantic of proposals, but Nicholas never thought she'd say no. Georgie doesn't want to be anyone's sacrifice, and besides, they could never think of each other as anything more than childhood friends… or could they?
But as they embark upon their unorthodox courtship, they discover a new twist to the age-old rhyme. First comes scandal, then comes marriage. But after that comes love…