Frosted by Wendy Sparrow is a sweet fantasy romance.
Kate has been on the run from Jack Frost for seven years. After she fell through the ice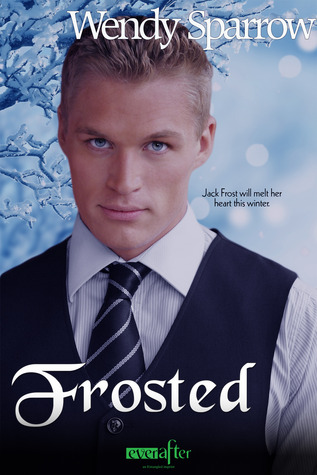 one day, she met Jack on a land she thought would only exist in her dreams. But first she had to die so she could be there permanently. One thing that Kate doesn't like is not being in control, and giving up her choices to become the Ice Queen is not something she has chosen.
Jack has been patiently waiting for his wife to come back, but she has gone too far south where he cannot reach her. Now after seven years, either he brings her back to their land and consummates their marriage on their anniversary, the winter solstice, or he will loose everything, his immortality, his powers and his very soul.
Now Jack has to bring Kate within his reach, the only means is with money and through her job. But it will not be as easy to convince her that they are meant to be together and that he truly loves her, not as she believes that the chosen queen could've been anyone and he would've been happy.
While this story is very nice, you have to keep in mind that this is a fantasy/fairy-tale style read. At the beginning I was a little lost trying to figure out exactly what was going on, but two chapters in all the details started coming as flashbacks from Jack and Kate. Regardless, the story was well written, with great detail which is one thing  I love.
Rating:
Book Info: Publisher: Entangled Publishing (Ever After) (January 14, 2013)
Seven years ago, Kate Finley fell through the ice into the Winter World
and straight into the heart of its king, Jack Frost. Then cold feet set
in and Kate ran from the one man who made her feel complete.
Jack let his queen go back to the mortal world to say goodbye but she
escaped out of his reach to sunny Florida. Now time is short, and he
must convince his runaway bride to give him a second chance to melt her
heart.