Game of Love by Ara Grigorian: Tennis is a sport that runs all year, unlike a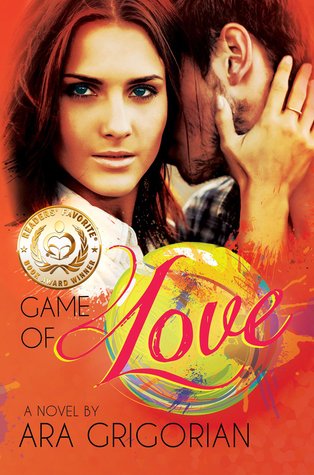 lot of other professional sports out there that are specific to seasons (baseball in summer, hockey in winter for example). It's played all over the world and on different surfaces (hard court, grass, clay), making it a challenge for one player to master them all. While there are many smaller tournaments, to be considered an accomplished tennis player you have to play and win at least one (if not all!) of the four Grand Slam tournaments. They are the Australian Open, the French Open, Wimbledon, and the US Open. Just as the major tennis season starts in January with the Australian Open, so too does this story.
Gemma is a 21 year old tennis pro. She's just had a disastrous Australian Open, coinciding with an equally disastrous relationship breakup. As a celebrity, she's under the increasingly watchful (and sometimes hazardous) eye of the paparazzi, every move she makes both professionally and personally under scrutiny. When she meets Andre at a hotel where they both are staying she assumes at first that it's a setup, something he's engineered to get close to her as this is the sort of situation with which she's unfortunately used to dealing. As it turns out though, Andre is in fact unaware of her status as a sports celebrity. He's simply taken in by her – her eyes, her smile, her everything. When it so happens that they are on the same flight a few days later, he takes the opportunity to get to know her better. In turn, she discovers that he's a mathematical genius, one of those teen whiz kids who aced college at a very young age and has gone on to use his talents for some of the best companies in the world, as well as governments and their agencies. In fact, in his world, he's a celebrity too, though not one the paparazzi generally look at, more the unsavory types who would like to lessen his interference in their business. Still, he understands her drive to succeed and her feelings of what it's like to be under the spotlight. The difference is that he's still able to live the life he wants (most of the time) while her every moment is planned and scheduled. They are two kindred spirits, but ones who live completely different lives, with homes thousands of miles from each other. Is there a way for them to have their careers and a lasting relationship too?
This story really hit all the high points for me. At its core it's a romance of course, two people drawn to each other by sexual attraction and an undefined something that links them together emotionally from the first time they meet. It's not love at first sight. but it's definitely a connection that they feel with each other that isn't going to be denied, no matter the inherent difficulties in trying to pursue a relationship. When we do get to some intimate scenes, they are not overly detailed but make it clear that these two have the right stuff together, in bed and out. The problem therefore is one of trust. Because Gemma has grown up fast, a tennis star since a very young age and in the public eyes for years, she's learned that there are very few people worth her trust. Even the ones who have it don't always have her best interests at heart. This makes her wary of taking Andre at his word until he's able to prove to her that he's really just the nice guy he appears to be (who just happens to be super smart too). I loved how he was able to take her into his circle of friends and make her feel warm and protected from the outside world, a place where she could just be herself and not a tennis celebrity. But make no mistake, Gemma is no weakling. She's tough, she's strong, and she's one of the best tennis players there is. She's able to deal with the pressure of being under the spotlight, especially when it comes to the high stakes matches she plays. As the pressure increases to win a grand slam though, it's taking its toll on her. Andre is able to make her see what she needs to do to cope with the stress and find that higher level of play.
While Gemma is focusing on her career, Andre has his own job issues. He's worked very hard at the company he's currently with, aiming to complete some special projects so that he can get his bonus payout for time served and get out, moving on to something he wants instead of things for which people want to use him and his intellect. He's got friends in powerful places – but he's also got enemies. As Gemma and Andre move forward in their relationship, things start to happen around them, giving the story an edge of suspense that I didn't expect but that made the story an exciting, page turning read. Being a sports romance there is of course plenty of tennis in the story, descriptions of what goes on behind the scenes in the locker room and practice sessions as well as on court action. Since I love tennis I enjoyed those scenes very much, and felt like it was really quite a timely story, especially when one looks at celebrity newsmakers in the sport today (women such as Serena and Venus Williams, and Maria Sharapova). But even if you aren't a tennis follower, there's a lot to enjoy in this story as ultimately Gemma and Andre have to make choices and sacrifices if they are going to be together for the long haul. It was a really entertaining, well written and exciting romance. 5 stars.

Book Info:

Publication: May 4 2015 | Curiosity Quills Press |
Gemma Lennon has spent nearly all of her 21 years focused on one thing: Winning a Grand Slam.
After a disastrous and very public scandal and subsequent loss at the Australian Open, Gemma is now laser-focused on winning the French Open. Nothing and no one will derail her shot at winning – until a heated chance encounter with brilliant and sexy Andre Reyes threatens to throw her off her game.
Breaking her own rules, Gemma begins a whirlwind romance with Andre who shows her that love and a life off the court might be the real prize. With him, she learns to trust and love…at precisely the worst time in her career. The pressure from her home country, fans, and even the Prime Minister to be the first British woman to win in nearly four decades weighs heavily.
As Wimbledon begins, fabricated and sensationalized news about them spreads, fueling the paparazzi, and hurting her performance. Now, she must reconsider everything, because in the high-stakes game of love, anyone can be the enemy within…even lovers and even friends. In the Game of Love, winner takes all.