Getting Even by Avril Tremayne: Veronica is not looking forward to seeing her ex again for the first time in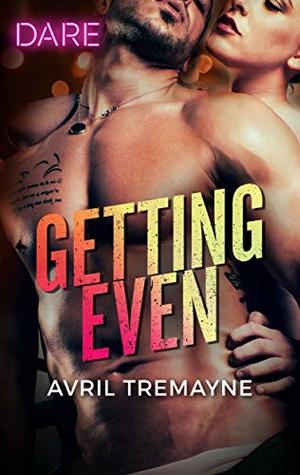 years at the wedding of their college friends and roommates. She was destroyed when instead of getting a ring, Rafael just walked away. Veronica has tried to move on by getting married and divorced twice from men who are opposites of her first love. She's smart, successful, fiery, creative, and trying to find her own version of an ice queen persona.
Rafael didn't have much growing up and he's become a very successful author. He's proud, determined, creative, demanding, and sexy. He could have any woman he wanted, but the one woman he still wants seems out of reach.
Veronica and Rafael had instant chemistry. They were together for most of their college years and neither have really and truly moved on after Rafael left her. Seeing each other again brings back their visceral chemistry, anger, resentment, and bitterness. Both want to move on and Rafael suggests one last night.
"Your memory is faulty, Rafael. Not that who did what to whom matters after all this time. Who cares?"
"Who cares? You apparently. So go ahead and be the one to tell me it's over. Say goodbye, formally and officially."
One night was never going to be enough, but embarking on a fling with a known end date gives them time. They push each other's buttons and boundaries as they fight themselves and each other. While getting even might have been the initial plan, things change as they better understand the past and what they really want.
"Oh, I do," she assured him. "But it's the begging I'm talking about. You don't know how to beg."
"What do you think I'm doing now?"
"It's not begging, what you're doing. It's negotiating, to get what you want."
Getting Even is hot, dirty, and a rollercoaster of emotions. Avril Tremayne created tension, anticipation, conflict, and heat. Ms. Tremayne created well-matched characters and heroine with some pretty entertaining inner thoughts. Getting Even can be read as a standalone in this series. Fans of Nora Flite and Tracy Wolff will enjoy Getting Even.
Book Info:

Publication: Published November 1st 2018 | Harlequin Dare | Reunions #2
Want. Need. Lust.
Just one more night!
For book editor Veronica Johnson, it's sheer hell seeing her ex Rafael Velez again. He's the man she thought she'd be with for a lifetime, and here he is at her best friend's wedding! How she hates him still! But he has an outrageous proposition: just one more night together! It's foolish—but achingly tempting. Especially if she walks away without a backward glance, just as he did to her…
"Dare is Harlequin's hottest line yet. Every book should come with a free fan. I dare you to try them!" —Tiffany Reisz, international bestselling author