Head Coach by Lia Riley is book two in the Hellions Angels series and proves that there is a thin line between love and hate.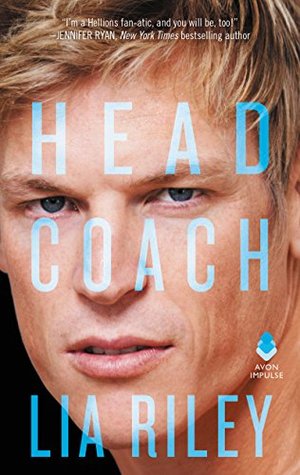 Head Coach, Tor Gunnar hates the media and clashes with sports journalist, Neve Angel, quite a bit. She doesn't let things go and really gets under his collar. If you see these two together, watch out, because the sexual tension is through the roof. Readers can feel it through every glare and with every insult that they sling back and forth.
When Tor receives word that his ex-wife is getting remarried, he has to figure out who to take as his date. Neve loses a bit and Tor decides to take her as his plus one. Tor has good intentions and reserves Neve her own room, but forces beyond his control, make it to where they have to share a room. Don't worry, though, no one is upset about this new development. In fact, these two finally give in to all that passion and burn up the sheets. But with their conflicting careers, do these two have what it takes to form something real or will they go back to being enemies once their little vacation is over?
I loved Neve. She was determined and not afraid to go after a story. Even though her feelings for Tor strengthened during their trip, she didn't change who she was. I also enjoyed her interactions with Tor's daughter and Neve's quick thinking when it's called for. Overall, this was an entertaining story and I really enjoyed Neve and Tor's story. I especially liked the obstacles that the author added into the story. Made for an engaging read. The ending, though, was perfect. Very satisfying! For those who enjoy sports romances or the enemies to lovers trope, Head Coach is a great choice for your next read!

Book Info:

Publication: November 21st 2017 | Avon Impulse | Hellions Angels #2
Neve Angel's life is all work and no play, but she wouldn't have it any other way. One of Denver's top sports reporters, she's fought hard to make it in a male-dominated world, and she won't back down from a fight with anyone–not even the Hellions' gruff head coach, Tor Gunnar. Her hostile relationship with the icy Scandinavian is the stuff of local legend.
Tor Gunnar hates dealing with the media; at best, they are a nuisance and at worst, a distraction. And no one distracts him more than the scrappy, sexy reporter who gets him hot under the collar. When he wins a not-so-friendly bet with Neve, he decides it's high time they either kiss or kill each other, and invites her as a date to an out-of-town wedding.
But what happens when enemies become lovers? Will they be able to smother their sizzling attraction, or is it time to start playing for keeps?