In Her Accidental Boyfriend by Robin Bielman, Kagan Owens is hiding from her life in NYC. She does not want to do what her father wants anymore, and marrying a man she does not love is not something that she will agree to. She is happy in the small town of Cascade, with the rental and job as a waitress she has. She has no pressures and nobody knows her real identity.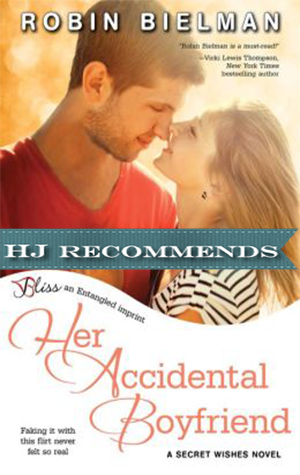 When her birthday comes and her best friend comes to visit she couldn't be happier. Unfortunately, her would-be fiancé happened to follow her best friend and shows up afterwards. Now with her life and decisions at risk, Keegan lets a tiny lie slip, saying that she already has a boyfriend.
Shane Sullivan is the considered the biggest playboy in Cascade. He likes to have a good time but he won't commit to any lady. The only person he cannot get out of his mind is Kagan. He tried to ask her out since the first time he saw her at the bar, but while friendly she has never given a hint that she will go out with him. Now he is on his way to her place to return a sweater she forgot.
Only as Shane arrives he finds Kagan has a visit, and while her friend seems to be leaving a man on the phone comes out. At first Kagan doesn't know what to do, until accidentally she says that Shane is her boyfriend, only to get her father and his chosen husband to be off her back. But things won't go as easy, for while she believes that will make him go away, her father orders him to stay and find out everything he can until he can get her to return to NYC with him.
Now Kagan has to reveal the truth to Shane and hope that he will help her, or reveal her lie to her father and the man she once considered her friend. But as Shane agrees to help her in the time before she decides to return to NYC, he also warns her that it won't go beyond that for he won't commit. Even if being with her, kissing her and touching her sets his heart and body on fire.
Shane is like any other human, not only is he hot, but he also has been punishing himself for something that he has blamed himself about for many years, therefore not allowing himself to commit to any woman. But Kegan will put all his limits to the test each and every time, and not only her but her supposed ex who won't give up that easily and will make Shane jealous each and every time.
I honestly can't wait to read more books in this series, and I hope the next one will be about Erin, the way she interacted with Travis I just know there is a story to come there that I can't wait to read about.
And I have to say…I love Entangled Bliss, and this book is another reason why, their books are so romantic, the heroes are hot but also they make everything so realistic that it feels like a real place and I wish that I could live there.
If you like a sweet, fun and romantic read, you don't want to miss Her Accidental Boyfriend by Robin Bielman.
Book Info:

 HJ Recommends
October 14th 2013 by Entangled: Bliss
Kagan Owens has a secret. One she thought she'd escaped by leaving New York, but when her past follows her to her temporary new life, Kagan lets a teeny lie slip. And now the town's biggest playboy and flirt, Shane Sullivan, has become her pretend boyfriend—just until she's ready to return to NYC. But the handsome, fun-loving Shane makes it tough to determine where their friendly agreement begins and ends…
Shane has no intention of settling down—in fact, his job depends on it, and nothing's more important than his work. Still, he can't help but agree to Kagan's scheme, if only to find out more about the mysterious beauty. But when every touch from her sets his heart and body on fire, he realizes playing an accidental boyfriend may be more than he bargained for—and more than he can give.