In Her Secret, His Baby by Tanya Michaels, Arden Cade had a wonderful one-night stand with a wedding guest where she was the photographer. She may not have wanted to mix business with pleasure, especially since it was the anniversary of a sad occasion for her and she was feeling very low, but Garret made it worth it, only she panicked and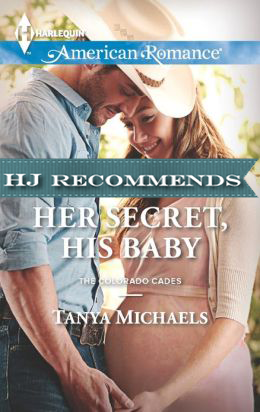 sneaked out the next morning. Then she finds out she is pregnant and she doesn't want to drop that bombshell on Garret when they don't even know each other and he may have someone else in his life.
Garret Frost has always believed he's had a good life being an only son his relationship with his father couldn't be better, until his mother drops a bombshell on him. Now he has gone back to visit his friend while he figures out what to do with the news his mother gave him. But his next surprise comes up when he meets up with Arden, six months after their one-night, and she is pregnant. He may not be an expert but there is a chance that the baby is his.
Arden feels guilty for not telling Garret the truth, but after everything that has happened in her life she is used to taking things upon herself and taking full responsibility. She has her two brothers to help her out, but things are not easy for them either. But as she admits the truth to him she knows that they will have to find a way to make things work for them and the baby.
Things will not be easy for Arden and Garret, they have to find a way to be able to give a stable love and family environment to their baby, but living in different cities does not help. And then there are the issues that Garret has to deal with back home and finding forgiveness for those who have lied and hidden truths from him. While Arden will have to find a way to show Garret that she truly is sorry and that she wants the best for their baby and them.
Her Secret, His Baby by Tanya Michaels is a sweet, heart-warming, fun and steamy story that you will not be able to put down.
Book Info

Publication Date: August 6, 2013 | Series: Harlequin American Romance (Book 1463)
Surprise! You're A Daddy!Life's been full of surprises lately for rancher Garrett Frost—and not in a good way. His mother has just dropped a bombshell about his past, so Garrett takes some time away to come to terms with family secrets. And who should he run into but Arden Cade, the beautiful photographer who shared a single night of passion with Garrett six months ago. He is even more shocked when he discovers she's pregnant—and he's the daddy.To make matters worse, Arden hadn't even planned on telling Garrett about the baby. Despite her lies, Garrett is determined to be a good father. He's not the type to cut and run, and he can't deny that he's falling for Arden all over again. But he'll have to find a way to forgive her betrayal…and make peace with that skeleton in the family closet.