In His Favorite Cowgirl by Leigh Duncan, Hank Judd is Circle P ranch's temporary  manger until his twin brothers can start on the job at the beginning of the year. Everybody believes that his real estate business is perfectly well and that he will be happy to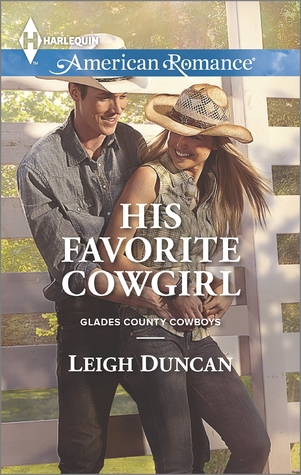 return to it as soon as he can. But as it is, with the economy and real estate dropping he also lost his business.
So when his father passed away and he had to return home to act as ranch manager, in a way it could not have come at a better time. But his father's death also brought other things to his attention, like the fact that he gave work and money more importance than what really mattered, meaning his ten-year-old daughter whom he doesn't really know. Now that he is at the ranch and his ex-wife is going away on a cruise with her parent leaving their daughter behind, he has the perfect opportunity to finally put things to right and work on the relationship. But as they are returning the Tompkins's cattle to their own place, he finds old man Tompkins lying on the barn floor from what appears a fall and possible bone fractures.
Kelly Tompkins is back at her grandfathers ranch only long enough to sell everything to pay for his medical expenses and care and then get back to Texas and her promotion before she loses it. What she doesn't expect is to see Hank as soon as she walks into the hospital, nor that he was the one that found her grandfather. She doesn't want anything to do with Hank, but after seeing the ranch she knows that she needs help to be able to sell it at a good price. The fact that Hank is offering to help is great, except that she has not being able to forgive him for how their relationship ended.
Hank has never been able to forget Kelly, he knows he reacted badly so many years ago to her news, but she never gave him a chance to make it up to her nor explain. Now he has a second chance with her, but first he must forge a relationship with his daughter and it looks like Kelly will be the one that will be able to help him with that. He just needs to convince her to give him a chance and help him, as he helps her with her grandfather's ranch.
The chemistry between them is as strong as it was so many years ago, but until Kelly can let go of the past and forgive him, as well as accept him for the man he is now, they will not be able to begin on the future they dreamed together so many years ago.
His Favorite Cowgirl is a nice and sweet read, I loved that Hank was doing his best to make things right with his daughter and do right by his family. His daughter was sweet and fun to read about, the way that she started changing and evolving during her stay at the ranch was great to see. I really liked Kelly's dedication and hard work, but I didn't like that instead of confronting the problems she would run away. She ran away when she had a fight with Hank, and after things start to go well between them as soon as she hits a bump she runs away and attacks him without listening to his explanations first. Overall it's an interesting read even if I did want to smack Kelly once or twice, lol. I can't wait to read more about the Judd brothers.
If you want an interesting and sweet read, don't miss His Favorite Cowgirl by Leigh Duncan.
Book Info:

Published October 7th 2014 by Harlequin American Romance Series #1519
You Can Go Home Again
A stint as ranch manager on the Circle P may be the perfect way for Hank Judd to reconnect with his ten-year-old daughter. And selling his former girlfriend's family ranch will provide the cash he needs to restart his failed real-estate business. He just has to resist falling for the girl next door all over again.
Kelly Tompkins needs to sell her grandfather's ranch quickly to pay for his medical expenses and get back to Texas before she loses her chance at a promotion. Hank is the last person she wants to see, but she can't deny she needs his help. But spending time with the boy who let her down twelve years ago may unearth a heartache that has never truly healed….