His Forbidden Kiss by Jessica Lemmon is an engaging and sexy romance for two people thwarted by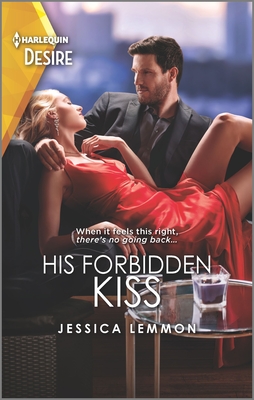 family and circumstances who finally get to have their chance at something special.
Taylor Thompson never expected to be running away from a possible marriage proposal. But run she does when she realizes her date to the Valentine's Day Gala, long time family friend Bran whom she has no real romantic interest in plans to propose at the ball. Hiding in a closet is so cliche, but it's her only escape and when Bran's older brother Royce Knox finds her, she pulls him into her escape hatch -thus casting the die in a new and intriguing direction.
Taylor's always been attracted to Royce but her father had warned her off (and him too) and in the dark with emotions high, she goes with her first instinct and kisses him, a kiss that he immediately warms to. Naturally, they get caught – by Bran. But while making amends is something they both have to do to get back on Bran's good side, it doesn't change the fundamental new awareness they have of each other.
The Knox and Thompson families have worked together for years, and Taylor, Bran and Royce all have key positions in their shared tech company, making the situation fraught with tension. But can Taylor and Royce find their way to a partnership all their own?
I really enjoyed this story! It's got a crackerjack start, and it's made clear quickly that Bran is proposing for his own reasons and not because he's in love with Taylor, making their short lived dating relationship one that is easily resolved. It does make for some stress between the two brothers though Royce can honestly say that it was Taylor who made the first move, and a good part of the story is the two brothers getting back on track.
Taylor is quick to apologize to Bran for how things went down and their friendship is repaired quickly. That leaves Royce and Taylor to figure out what is happening between them. Now that Taylor's father has passed away, Taylor is free to act on her attraction to Royce (and vice versa) leading to some sexy scenes and the realization for Royce that his workaholic life is no longer satisfying.
The shared business and its challenges, the family dynamics with siblings and parents, and Taylor and Royce's growing feelings for each other all come into play making for a well rounded story with some intriguing secondary characters as possible partners for the other Knox siblings Bran, and sister Gia. It's a thoroughly enjoyable romance with a delightful couple and I look forward to reading more in the series!
Book Info:

Publication: Feb 01, 2020 | Harlequin Desire | Kiss and Tell #1
He's been off-limits for years. Now they've crossed a line…
But when it feels this right, there's no going back…
Heiress Taylor Thompson is shocked when the mysterious stranger she kisses at a gala is no stranger. Royce Knox is a top exec at the tech empire their fathers cofounded. The man her father didn't want for her. And the best kisser ever. With business and family pulling them apart, can Royce become more than her colleague? Taylor will do whatever it takes to find out…