In His Risk To Take by Tessa Bailey, detective Troy Bennett is finishing his first week on the NYPD squad by having drinks with his fellow cops. When Ruby walks in, he can tell she's trouble but he doesn't care. He is immediately drawn to her. She obviously feels the attraction too and they begin flirting while she waits to play a game of pool. He steps in when she hustles a guy out of his money but he can't help the way he reacts to her physically. Troy warns her, as he asks to take her home, that he calls the shots in the bedroom. Surprisingly she agrees to go and they begin a very intense affair that night. Together they quickly form a strong connection which Troy finds both frightening and welcoming. He's been trying to avoid feeling anything since he lost his Chicago PD partner in a raid several months before. Ruby seems to understand his loss and guilt and it makes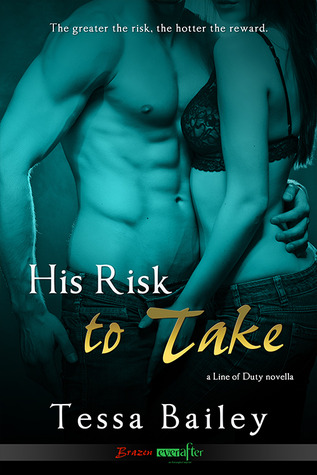 him possessively want to protect her. When he realizes that she's tangled up in an investigation he is working on, he knows he's done the exact opposite by putting her in harms way due to her involvement with him. He has to find a way to keep Ruby safe while also keeping her in his life. He knows he can't give her up. Ever.
"A long, black wave of hair obscured part of her face, but she tossed it back over her shoulder as she neared him, flashing exotic green eyes in Troy's direction, as if she'd sensed his gaze following her through the bar. That single look hit him like an uppercut to the jaw."
Ruby Elliott has been hustling pool for almost her entire life. Taught by her father, she has made a living hustling in her hometown as well as other parts of the country. She's trying to get on the straight-and-narrow but needs to make some money for a while longer until she can break free of the lifestyle. Troy rattles her to her very core when he rescues her from an angry guy at the bar. She's shocked and admittedly turned on by his dirty mouth when he asks her back to his place, fearing for her safety from the disgruntled redneck. She breaks her own rules and follows him home, kidding herself that she is in control of the situation. She finds out too late how much crazy chemistry they have together and ends up spending (most of) that incredible night in his bed. When she sees a mugshot of someone from her past sitting in his apartment a few days later, she is worried that he's using her for information. He convinces her he didn't know about her involvement but she realizes she's putting him at risk every time they are together. Ruby comes up with a plan to prove to him how much she cares about him and to help him with the manhunt, but will it backfire and cause her to lose everything?
"Before she could blink, he moved to stand behind her. On either side of her, he laid his hands on the table, effectively blocking her escape. When he spoke, she felt his every word against her neck. "I just watched you bend over a pool table in those ridiculously tight jeans. Over. And over. You think I could stop at kissing?""
Tessa Bailey has another fantastic, hot and steamy book here. I loved Protecting What's His which is book one in The Line of Duty series. And book two did not disappoint in the least! His Risk To Take has all the elements I look for in a good romance: a strong and independent heroine, an alpha male with a good heart, intense love scenes and some crime drama thrown in for good measure. I have to say my favorite part is Troy's method of proving his love and faith in Ruby at the end of the story…it is VERY sigh worthy and makes me think of the movie Say Anything.
I definitely suggest checking out this quick but extremely sexy book.
Book Info: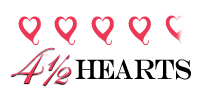 publication: May 2013 by Entangled Publishing series: Line of Duty #2
The greater the risk, the hotter the reward…
Homicide cop Troy Bennett had a reputation on the Chicago PD for being fearless and in control—until the night his daredevil partner is killed during a raid. From that moment on, he swears he'll never again be responsible for the loss of a loved one. To escape his demons, Troy transfers to the NYPD, bringing him up close and personal with Ruby Elliott, a beautiful, street-savvy pool hustler.
Reckless and stubbornly independent, Ruby embodies everything Troy's avoiding, but when she walks into O'Hanlon's Pub and blows his carefully laid plans to hell, Troy knows he has to have her—risks be damned. But there's a connection between Ruby's shadowed past and a case Troy's working involving a notorious Brooklyn felon, throwing her safety into jeopardy. Confronted with his biggest fear, will Troy push Ruby away to keep her safe or fight to keep her in his arms where she belongs?